Save the date! We got this press release today, and want to share it with you. Especially since you can see the museum for only 30 cents! They also sent a whole crop of pictures for your enjoyment. These are from the opening ceremony on April 15, 1979.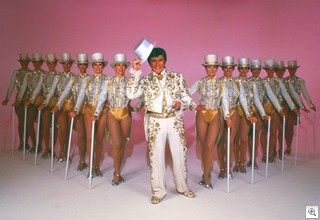 LAS VEGAS – The life and legacy of pianist and entertainer Liberace will be celebrated on Wed., April 15 with the 30 year anniversary of Mr. Showmanship's best encore performance, the glittering Liberace Museum. A full day of festivities will be hosted by the Honorable Lorraine T. Hunt-Bono and Dennis Bono, who are serving as the event's Rhinestone Chairs. The Museum will be open 9 a.m. to 9 p.m., with 30 cent museum admission, and free performances by Liberace scholarship recipients and Liberace Piano Competition winners. Philip Fortenberry, composer and "Jersey Boys" pianist, will perform his "Liberace and Me" cabaret show at 1 p.m. The Liberace Museum will also debut a new 30th Anniversary Exhibit to run through May 31 commemorating three decades of milestones since 1979 and to celebrate Liberace's legendary career mark as a part of the Las Vegas and international entertainment scene.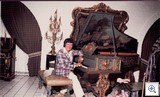 Evening festivities begin at 5 p.m. to 6 p.m. with a celebrity and invited guest "red carpet reception," and the public is encouraged to view the red carpet arrivals. A ticketed event will follow with live entertainment from 7-9 pm in the Liberace Museum Cabaret Showroom with "Liberace through the Years – The Friends and the Music" hosted by and with performances by Lorraine Hunt-Bono, Dennis Bono, "Jersey Boys" cast members Keith Thompson, Philip Fortenberry, Erich Bergen, and other friends from the Broadway community. To purchase tickets for the evening entertainment, call 798-5595 ext. 14 and proceeds from tickets sales will benefit the Liberace Foundation.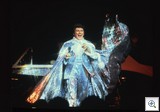 "Liberace is an iconic part of Las Vegas entertainment history, and he left a long-lasting legacy in our city and around the world through his sell-out performances, beautiful Museum, and non-profit Foundation which helps thousands of young students," says Jack Rappaport, Board Chair of the Liberace Foundation for the Performing and Creative Arts. "Liberace wanted to be known as a kind and generous soul, so on behalf of the Museum Cast and Foundation Board of Directors, we encourage the public to come and celebrate his life, remember his incredible gift of showmanship, and his joyous heart that still today brings smiles to people from all walks of life."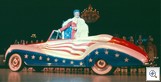 Liberace opened his Museum on Easter Sunday, April 15, 1979 nearby his Las Vegas home on Shirley Street and close to the Las Vegas Strip where he performed. The Museum was created to share an intimate glimpse of his memorabilia that helped make Mr. Showmanship a legend in his own time and to share it with the people who made it all possible. To date, nearly four million Americans and international tourists from countries around the world have come to witness the splendor of Liberace's famously sequined, bejeweled and feathered million-dollar costume wardrobe, custom stage cars, jewelry, candelabras, awards, personal artifacts, and some of the most remarkable pianos, including a Chickering concert grand once owned by George Gershwin, and a John Broadwood piano from 1788, one of the rarest pianos on display in the U.S.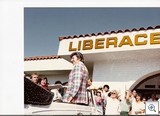 The bulk of Liberace's estate when he passed away on Feb. 4, 1987 was left to help talented people in the arts study their craft and pursue their dreams. So beyond the glitz of the Museum itself, proceeds from admissions have touched many young lives over the years. As a result, $5.2 million has generously been awarded to date by the Liberace Foundation to 2,500 students deemed "Liberace Scholars" from 120 colleges and universities across the U.S. – from Las Vegas' own UNLV and coast to coast from the University of North Carolina at Greensboro to the California State University at Sacramento. UNLV is the largest single recipient school of Liberace Foundation scholarships with almost $370,000, and each year it funds eight students, including four jazz studies and four students from the string program.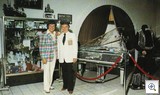 Celebrities and dignitaries, too, have visited the Museum over the years, including Debbie Reynolds, Bette Midler, Regis Philbin, Charo, Donny and Marie Osmond, Paris Hilton, Giada DeLaurentis, Nicholas Cage, David Arquette, Meg Ryan, Carrie Fisher, Tracey Ulman, Michael Jackson, David LaChapelle, Joy Behar, Siegfried and Roy, Penn Jillette, Louie Anderson, Jay Mohr, Isaac Mizrahi, Dita Von Teese, CSI's Marg Helgenberger and William Peterson, Dina Lohan and son Cody, Duran Duran, Rip Taylor, U.S. Congresswoman Shelley Berkley, Vincent Falcone, Frank Marino, Bill Acosta, Zowie Bowie, Kevin Burke, and Brent Barrett.
The Liberace Foundation and Museum is a nonprofit organization and is located at 1775 E. Tropicana Avenue at Spencer, just five minutes east of the famous Las Vegas Strip. For more information and to make a donation, call 702-798-5595, e-mail [email protected], or visit the website at www.Liberace.org.