First I want to tell all of you that I'm honored and pleased that you read along with me. The Real Estate Tomato folks who mentor me on blogging tell me that Very Vintage Vegas has an enormous following as Real Estate Blogs go. BlogTopList says I rank 32 (by unique visitors) among all its registered real estate blogs nationwide.
The 500 Mark And The 400 Average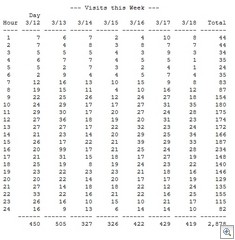 The "500 visitors in a day" milestone got broken last Friday the 13th. I have no idea if it has any meaning or not that it was Friday the 13th, but that's the FIRST TIME EVER that there were more than 500 unique visitors to the website in a single day.
The "400 readers per day average"  mark got broken this same week for the first time ever.
Sitemeter, the program that's hidden away somewhere in the backside of VVV actually keeps track. If you visit twice a day, it knows. And it still only counts you once. It's magic. Actually the entire internet thing is magic, in the same way planes can't really fly….and you know it.
Besides that, there's currently 97 of you who get the posts in some reader such as googlereader, outlook, yahoo, or aol or what have you. There's another 110 of you who get the posts by email, everytime I post something new. If you'd rather get the posts by email or by reader, just click the funny little thing with the quarter circles next to the readers counter or the "submit email" button to get them sent to you. They're both at the top of the left hand column.
Most of the people I talk to tell me they check in once a week, or every couple of days. Then there's my best friend JB, who saw it once and said "that's nice". That translates to probably 5000 or more readers who are somewhat regular or better.  I know someone's reading it, because at least once a day I meet someone who recognizes me and tells me that they read VVV at least occasionally.
What's it really mean?
It means there's a ton of you out there who care about the same things I do. For that, I'm eternally thankful. Thank YOU!