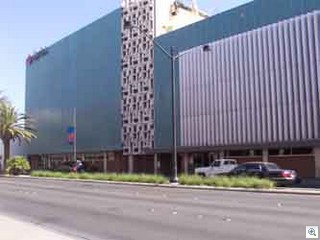 Regular Reader Tracey Brown gets a hat tip for finding this old website from Central Telephone. It shows some of the phone switching buildings, and makes reference to only some of the old letter exchanges.
We now know about DUDLEY – Du – The 38's (my first phone number when I moved downtown was 383–9976 (don't call it! it's not mine now).
From this website I found out about the EVERGREEN – which would also be a 38 
And REGENT RE – the 73's.
And SOUTH SO  – the 76's
So I ask — were there others? When did they stop using the alpha prefixes? I know they weren't in use in 1985 when I came to town.
Anyone know?
By the way, the main switch building shown above is one of my favorite commercial mid mods in all of Las Vegas.
Here's a few closeups of the decorative concrete tower on the front of the building. (they're clickable to see them as full sized images)
Don't ask me why the VVV blog program just switched fonts and font sizes on me in the middle of this, and do click on the front page of The Central Office which is a tribute website to the Central Telephone Company which later became Sprint, and is now part of Embarq. There's lots of pictures and info buried in there about telephone switching, if you're inclined to do some surfing on the subject.