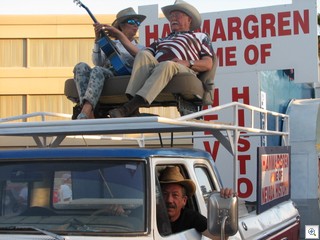 One of the longest running traditions in Las Vegas is the annual HELLDORADO PARADE. This year it's on Saturday May 16th. Last year I was honored to be allowed to be the driver for Dr. Lonnie Hammargren's float, and hope to do something equally as fun this year. I might even have a VeryVintageVegas float of my own.
May is Historic Preservation Month and there will be LOTS of events which we'll be telling you about in the next 6 weeks as we get ready for it. Don't touch that dial.
Helldorado RODEO returns to Downtown Las Vegas
VVV has been asked to help round up some volunteers for the Rodeo. Jack Eslinger from the City sent the following, and an application form which I've pasted below. You can cut and paste and email it in. People ask me all the time what they can do to help with the Historic Preservation Cause. Here's one way!
The Helldorado Rodeo is back after a few years off. This year, the City is working closely with the Elks Lodge in coordinating the event. The Rodeo will held during the evenings of May 14 – 17, 2009. The site for the rodeo is across Las Vegas Boulevard from City Hall. The entry area for the rodeo will actually be near the intersection of Stewart and 7th Street. This year's Helldorado Days will benefit various charities throughout the valley.
One critical piece to making an event like this work is volunteers. We are seeking volunteers in the following areas:
Ticket sales/ticket takers
Gate guards
Security
Other Assignments
A volunteer application is attached to this e-mail. If you are interested in volunteering, please complete the application and return to Jack Eslinger at [email protected] or fax to 598-0877. If you have any questions, please call me at 229-2090.
Thank you.
Jack
HELLDORADO RODEO EVENT
Volunteer Application (May 14 – 17, 2009)
Name:_____________________________
Address:______________________________________
City:__________________, State:_________ Zip:_________
Home or Office Phone #:__________________________
Cell Phone #:____________________________
Shirt Size: S M L XL XXL 3XL Other:_____ (Shirts will probably be sized unisex or mens)
Volunteer Assignment Description:
As you can see below, there are both shifts during the day and during the evening, Thursday through Sunday. The shifts on Saturday are a little longer as the rodeo will begin following the Helldorado Parade. We anticipate the ticket seller and ticket taker positions will be sitting the majority of the time. Gate duty will likely involve sitting/standing at an emergency exit gate to ensure people are not entering improperly and in case of emergency evacuation. There are six gates that need to be manned at all times. Security will involve walking around the arena and radioing the authorities in the event there is any trouble. Other assignments may arise as we get closer to the event.
Shifts Available to work (please circle):
Thursday 6:00 PM – 10:00 PM
Friday 6:00 PM – 10:00 PM
Saturday 11:00 AM – 11:30 PM
Sunday 11:00 AM – 10:00 PM
I am willing to work (check all that apply):
___ Ticket Sales/Takers ___ Gate Duty ___ Security ___ Any
Please e-mail your completed application to Jack Eslinger at [email protected] or fax to 598-0877. If you have any questions, please call me at 229-2090 or on my personal cell phone at 596-5369.
Thank you!
Jack