(UPDATE: 3/27 1AM: I've completed the post at the bottom, added a few pictures, and edited a few words. If you read part one, on Wednesday, I added part two to the bottom of this same post. This is the complete post, now)
A Day With Documentary Film Maker Jake Gorst In The Paradise Palms Neighborhood Of Las Vegas
I spent the day yesterday with Jake Gorst, who's a documentary filmmaker, and Heather Purcell, who hired him to make a documentary about William (Bill) Krisel, AIA.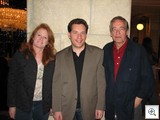 Heather's the Executive Director of "Design OnScreen" which is a non-profit educational foundation dedicated to telling the story of the regionally well known architects and designers of the mid century modern era. There are 3 documentaries that are already in the can as they say, and this 4th one is what brought us together. (also pictured (r) is Phil Weyland, who is producing other films that Jake is working on.)
William Krisel, AIA has over 30,000 homes under his belt. Primarily, they were built by the Alexander company in Southern California as well as in Palm Springs. The only homes in Las Vegas are in the neighborhood of Paradise Palms, where we spent the day yesterday.
There's plenty you can read about Bill Krisel here at eichlernetwork, and here at PalmSpringsModCom.
That's the background, but I wanted to tell you about our day. At breakfast, they showed me the original brochure from Paradise Palms. Jakes been researching and interviewing Bill Krisel in preparation for the movie. The brochure came right from Bill. I'll be getting a copy of it when Jake returns home. It gave us some very good clues as to what, in Paradise Palms is truly a Krisel design home and what wasn't.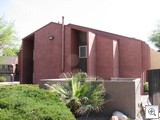 We started out looking for an apartment complex at 3540 Swenson that Bill supposedly designed. If he did, it's been totally screwed up and there's hardly anything left that says William Krisel. There's a few elements in the balconies that might be original, but everything else has been stucco'd over. Now it looks like a tired 70's or 80's apartment building. Bill won't be happy about it.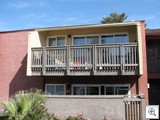 We spent the better part of the rest of the morning in Paradise Palms, trying to identify the various configurations of the various floorplans. Some are outright obvious when compared to the brochure. Others (far too many) have been changed and modified so much that they're unrecognizable. About an hour was spent driving thru the three distinct areas of Paradise Palms to get an overview of the whole community.
Through Jake, I had emailed Bill Krisel with pictures of various properties. He confirmed that "some" of the ranch styled homes are his, and some are not. All of the butterfly roofed, flat roof and folded roof homes are definitely Palmer and Krisels. I'm trying to get a friend of a friend to get me in touch with Irwin Molasky (the developer of Paradise Palms) in order to verify who the architect of the other ranch homes might be. Also, Bill's confirmed that none of the homes south of the National golf course, those on Papago, Mohigan, or Viking are his designs. I'll do my best to find out whose designed them, as they seem to be custom homes.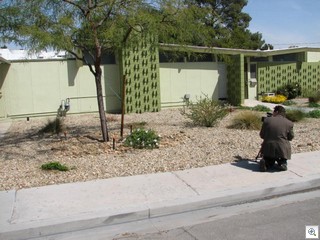 Around 11 we set up on Ottawa Drive to get footage for the movie. Jake was using the house here at 2082 Ottawa to show the shadow blocking that Krisel designed to create constant change in the texture of the house as the sun moved overhead.
Though I didn't take any pictures, we also shot footage of the interior which sports the original kitchen, fireplace and shadow block.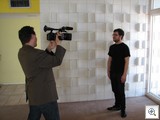 Our next schedule stop was on Seneca. I mentioned this home the other day. Except for the 2 bathroom vanities and the tile on the hearth, it's as original as it gets. It's never been added to or re-configured. Kevin's the new buyer, and his deal was going to close any moment yesterday, so I invited him along since we didn't know yet whether it was his house yet or not. It may well have been that Kevin was allowing us to video inside of HIS home. Turns out, it didn't record until late afternoon.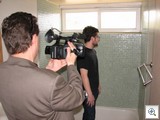 We video'd the elements of the interior and exterior, and gave him his keys with the camera rolling. I hope that footage doesn't hit the cutting room floor.
I told Kevin how proud I was to have helped him, and that he represents a whole new generation that loves mid century modern. We really raised the bar for him, and he promised to do his best to polish it up and make it shine again (and get rid of the blue and yellow paint – BTW).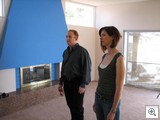 While we were doing the shoot at Kevin's I got a call from a couple from Oregon who were playing "cultural tourists" that day. They had googled "mid mod las vegas" and landed right here (as they should have) at VVV. They wanted to know if they were in the right neighborhood where we were doing the filming. Since they were, and were right around the corner, I invited them over. This is Mike and Jennifer, who also got interviewed about their love of Mid Mod. They're in a pre-war 20's Bungalow in Downtown Portland, and wish they could live mid mod, but that would mean 1 hour commute times to their downtown Portland offices. All the mid mod in an old city like Portland is usually an hour or so out of any given downtown. That's the beauty of how all the mid mod in Las Vegas is so concentrated right in the middle. They also told me about the annual Mid Mod Home Tour in Portland that's called, amusingly, "Street Of Eames".
I'll wrap this up tomorrow for you and tell you about our afternoon, our tour of other mid mod neighborhoods, commercial mid mods and our discussion about Zick and Sharp, and our video shoot of the "Caddy Shack".
(Here's were I ended on Wednesday)
By 2pm we were all famished, and I was already exhausted, having been on my feet for 6 hours watching Jake shoot his footage. I needed to run to my house for a second to dash off an amendment for a deal that was being negotiated, so we left Paradise Palms for a whirlwind tour that took us into Francisco Park, Marycrest, Becke Circle, John S. Park, Lawyer's row, and eventually lunch at Dona Maria's on LVBLVD. A quick drive thru downtown opened the door for me to start pitching Zick and Sharp as THE Las Vegas architects who deserve to have a documentary film made about them. As we headed back to Paradise Palms, I showed them some of the bank buildings the Zick and Sharp had designed that still exist along Maryland Parkway and Ruby Thomas Elementary and Orr Middle School which was one of the POD schools, .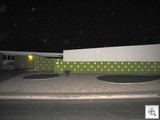 Our 5 pm appointment was to get footage of the most easily found, and most frequently photographed of the Paradise Palms homes – "The Caddy Shack" of MaryMargaret and Carey Stratton. We arrived early in order to pick up the palm fronds that were on the ground everywhere that day. I didn't take any pictures of the exterior while Jake was filming, but I did have this night shot in my computer, so I'm using it. (The CaddyShack is on Seneca, just south of Desert Inn. You can't miss it.)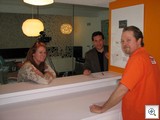 MaryMargaret was out of town, but Carey graciously allowed us to shoot the video footage. One of the things I learned was that it's not a quick point and shoot process to get HD video. Once Jake gets the lighting and the staging and the angle and all the etceteras in place, then you wait for about 5 minutes for each shot so that he has material to work with for editing process. Then you move the camera and do it all over again.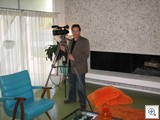 He told me he learned a long time ago that you have to film about 10 times more than you think you'll need so that you're not regretting being a few seconds short when you're editing. On the other hand, since I only do point and shoot amateur photography, I'm beginning to realize that "real" photographers spend just as much time to get a single still shot. (I digress, but this link takes you to an NPR story on Julius Shulman, which is well worth reading – or at least looking at the pictures.)
From the brochure that we had with us (and that Jake has promised to provide to me – DON'T FORGET, JAKE) I learned that the CaddyShack is a model 7A. It has the same floor plan, as the 7B and 7C, but it not only can be flip-flopped, it can be spun counter clock wise so that the entry is in the front, and the bedrooms are on the side.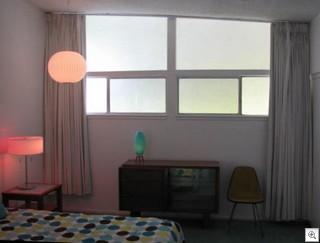 One of the beautiful things about the 7A is that what you're seeing on the front is not a solid wall. The white polygon is actually a facia board that hangs down from the eaves. It's about 2 feet in front of the bedroom windows, which you can see from this interior shot of the master bedroom. The windows can let in natural light, but allow for complete privacy.

It was an exhausting day full of new friends, new insights, and lot of learning about the floorplans and elevations of Paradise Palms.
Racquet Club Estates in Palm Springs Is The Role Model Of What Paradise Palms Can Become
The most important thing I learned, was about another Bill Krisel community in Palm Springs. It was built by the Alexander company and was called Racquet Club Estates. It is featured heavily in the upcoming documentary, "Desert Utopia" which is one of Jake's films that are currently in post production.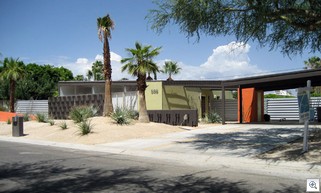 According to Jake – several years ago it was run down, out of favor, shabby, and unloved. Today it's a showplace of the mid century modern aesthetic. Take a look at the gallery of photos. They're as distinctively William Krisel as the homes of Paradise Palms. Examine the landscapes, the colors, the cleanness, and the original preservation.
Neighborhoods can and do get re-born. Jake has been to and seen Racquet Club in both it's before and after condition. He says that Paradise Palms is currently in much better shape than Racquet Club was before the re-birth. New owners routinely pull out the "re-muddling" and restore the homes. The CaddyShack is a great example of what can be accomplished in Paradise Palms. Racquet Club Estates in Palm Springs can serve as our role model. If one was to build new homes in Las Vegas (in a couple of years), one might do well to follow the lead of Max Livingstone, who's a new home builder in Palm Springs.
Educating the current owners and getting the soon to be owners excited about Mid Century Modern, regardless of which neighborhood or who the architect was, is one of the primary goals that I strive to achieve. Foundations such as Design OnScreen, and film makers like Jake Gorst really make my job easier. I was honored to be able to help them and I thank them profusely for the opportunity.