I spoke to Dede Knave over the weekend. THERE ARE STILL TICKETS remaining. It's free but you have to RSVP.
This Thursday, April 2, at 7pm – Las Vegas Academy Auditorium
Antonio Morelli Remembered In Words And Music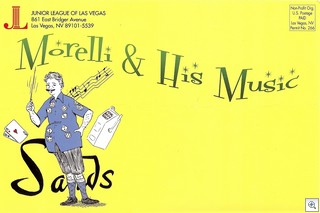 Join us for a night of music and discussion about Antonio Morelli – the famed Sands Copa Room orchestra leader in the '50s and '60s – who played with entertainers including Frank Sinatra, Dean Martin, Sammy Davis Jr., Nat King Cole and Jimmy Durante.
Pete Barbutti, emcee, will take the audience back to Showroom Era Las Vegas as Claytee White of the UNLV Oral History Research Center moderates a panel discussion of original Morelli Orchestra members, who will explore their impressions of Morelli and their recollections of the specific events at the Copa Room. In addition, guests will be treated to special musical selection from Morelli's repertoire performed by the Las Vegas Academy High School Jazz Band under the direction of Patrick Bowen, with featured solos by our veteran musicians.
Following the program, a reception and tours will be held at the historic Morelli House which is located at 861 E. Bridger Ave. across from the Las Vegas Academy.
OPEN TO THE PUBLIC, with FREE ADMISSION, but RESERVATIONS are REQUIRED. Email RSVP to [email protected] or call 702–822–6536