Greg Brown is our guest blogger today. There's an important call to action at the end, and I hope you'll all help – even if you're not directly affected, as those in Beverly Green, John S. Park, Southridge and Paradise Park will be if this bill passes.
Here's Greg Browns Post.
There's a bill now being considered in the state legislature that could be very bad news for our neighborhood, and our Assemblyman, Tick Segerblom, is asking for our help in trying to stop it by writing to key legislators to oppose it.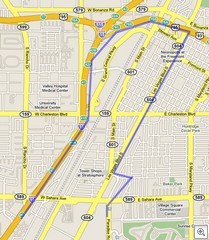 Assembly Bill 476 would expand the Las Vegas Gaming Corridor, which currently includes the Strip up to St Louis Avenue; this bill would expand the zone to include a large part of downtown Las Vegas, including the residential portion of our neighborhood that lies south of St Louis and west of Santa Rita. . By adding this land into the Gaming Corridor, the Bill would make it much easier for developers to obtain an unrestricted gaming license for a major casino.
Under current law, some of this land lies in the "Gaming Enterprise Overlay," which does allow a developer to obtain a gaming license but with some clear limitations intended to protect the neighborhood. Under current law, to obtain a license in this overlay, a developer cannot locate a casino within 1500 feet of a church or school or within 500 feet of a residential neighborhood; moreover, that developer would need the support of 3/4 of the City Council to obtain that unrestricted gaming license. Under the proposed bill, there would be no such restrictions on proximity to a church or school or residential district, and there would be no requirement that 3/4 of the City Council support the license.
In short, the sole purpose of the bill would be to make it easier for a developer to obtain an unrestricted gaming license close to or in the middle of the residential portions of our neighborhood — and to remove the City Council as a place where we could be heard in that decision.
This bill was introduced late in the legislative session, and a hearing has already been held on the bill. It will come up for a vote in the Assembly Judiciary committee in the very near future. The chairman of the Judiciary Committee is a Carson City representative, who does not know our neighborhood very well, so its imperative that we all write to him to let him know a bit about our neighborhood — and why it would be such a mistake to allow developers to build Strip-style casinos on Las Vegas Boulevard north of St Louis and as far east as Santa Rita. Other members of the Judiciary Committee do now our neighborhood, and some represent areas near us — so its important we let them know how concerned we are about this bill.
We must make clear that Strip-style casino development has a place in Las Vegas — on the Strip proper. And if developers want to expand Strip-style casinos north of Sahara, into the Gaming Enterprise Overlay, they can already do that; they simply need to stay a minimal distance from residences, schools and churches — and they need to allow the City Council to weigh in on the decision. This bill would remove those minimal constraints.
The Democratic members of the Assembly Judiciary Committee who are supporting this bill or are undecided are listed below. Please take some time this week to contact the Chairman, Bernie Anderson, and the other members of the committee and ask them not to pass AB476. (Please also forward this email on to any neighbors that you feel might be interested.
Bernie Anderson (Chair) 775-684-8563
[email protected]
Marilyn Dondero Loop 775-684-8833
[email protected]
James Ohrenschall 775-684-8819
[email protected]
Ruben Kihuen 775-684-8553
[email protected]
Mark Manendo 775-684-8801
[email protected]
William Horne 775-684-8847
[email protected]
Harry Mortenson 775-684-8803
[email protected]
Bonnie Parnell 775-684-8825
[email protected]