Our favorite Elvis Tribute Artist is Trent Carlini. He's been around for 20 years, and won ABC's "The Next Best Thing" contest show last year.
Friday night was the grand opening press party and show at the Steve Wyrick Theater at Planet Hollywood.
From the "Dream King" website:
The King is back in Las Vegas as Trent Carlini returns to the Strip with the launch of ELVOLUTION™. …."ELVOLUTION™ is Trent Carlini's modern-day take on an exciting evolution of Elvis' musical life," explains Carlini. "The show will revolutionize the way audiences are accustomed to seeing his portrayal and highlight the King's best moments throughout his multi-decade entertainment career.
We bumped into Miss Nevada USA, Georgina Vaughan, Tony Sacca, Larry G. Jones, who's currently headlining at the Royal Resort; Chris Saldana from Channel 8 news, and met lots of other fans of Elvis and Trent Carlini.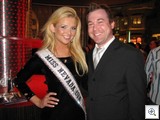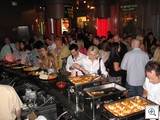 Lots of celebrities, lots of shrimp, lots of fun. And a great show as well.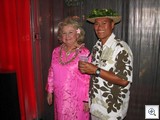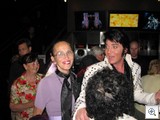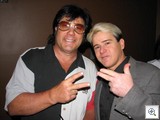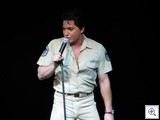 Here's a snippet of one of the vids I took during the performance. You'll want to see this show, and definitely tell your friends that I said so.