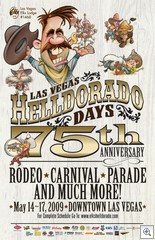 One of the long standing traditions that celebrates Las Vegas history is the Helldorado Parade.
"A Las Vegas tradition since 1934, Helldorado Days recaptures the spirit of the Old West. It is a celebration of our community's western heritage for residents and visitors alike!"
This year there's even more as the RODEO and CARNIVAL returns to downtown Las Vegas for 4 nights starting on Thursday. There's a HUGE KICKOFF PARTY Wednesday night at the Fremont Street Experience.
The Parade is Saturday Night starting at 7pm along the 4th Street parade route going north from Charleston.
Here's the whole run down from the City of Las Vegas Official Helldorado site, though some of the events such as the golf tournement have already happened.
Events and music on Fremont Street as well as the parade are FREE! Rodeo tickets have to be purchased:
Tickets are on sale now from noon to 6:00 p.m. at the Las Vegas Elk's Lodge located at 4100 West Charleston Avenue. Tickets can also be purchased from the local Harley-Davidson stores at 2605 S. Eastern Avenue, south of Sahara Avenue.

Ticket prices are:
Thursday, May 14 – $5.00
Friday, May 15 – $12.50 for adults and $6.50 12 and under
Saturday, May 16 – $12.50 for adults and $6.50 12 and under
Sunday, May – 17 – $12.50 for adults and $6.50 12 and under

Buck-a-roo bucks are $2.00 off admission on Thursday and Sunday. Buck-a-roo bucks can be picked up at any of the 21 Las Vegas Dunkin' Donuts locations.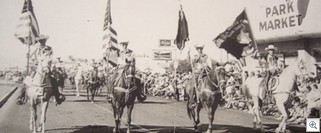 This is the 75 anniversary installment of Heldorado, and there's plenty of more information on the Elk's Club Helldorado Website.
I'll be driving Dr. Lonnie Hammegren's float once again this year, along with the Classic Las Vegas folks.
We're hoping you'll come out and wave at us while you're having a fabulous time.