If you're not content with just watching the Helldorado parade….
All Very Vintage Vegas readers are invited to walk along with us in the parade. I'll be driving Dr. Lonnie Hammargren's float, which this year will have the VeryVintageVegas and Classic Las Vegas Banners.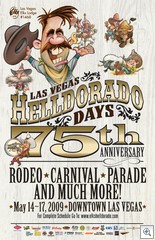 Show up and find us around 6pm on Saturday night at the staging area north of Charleston on 4th Street. We haven't gotten our number yet, but the truck will be easy to find.
If you're going to be watching the parade along 4th Street, then make sure to YELL AND SCREAM and wave at us. We'll be just as excited to see you!
After the parade, there will be fireworks on Fremont Street, the carnival, the rodeo, and plenty of live entertainment at both Fremont Street Experience and the clubs at Fremont East Entertainment District.
I'm sure we'll be having a late night drink at "Don't Tell Mama" after the rodeo and carnival. There's no excuse for being anywhere else this Saturday Night.