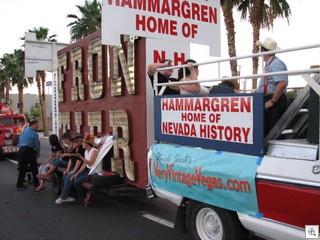 There's a thrill in being in a parade. There's a very different thrill when you watch it go by! Last Saturday night at the Helldorado Parade in beautiful Downtown Las Vegas we had the opportunity to do both.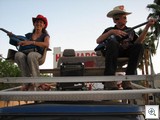 It was hot! "How Hot Was It", you ask? Hot enough that the horses were all wearing rubber boots to keep their feet from burning on the pavement. Hot enough to have us all sweating up a storm waiting for our turn to be in the parade.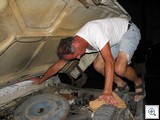 And HOT enough for Dr. Lonnies truck to overheat (along with a lot of other vehicles). That's how we got to watch the parade, since we were stuck in the middle of 4th street for about an hour. The parade just went on around us, and we had the chance to see it very up close and in person. Eventually, we got the truck running again, and finished the parade just in time be under the fireworks on Fremont Street.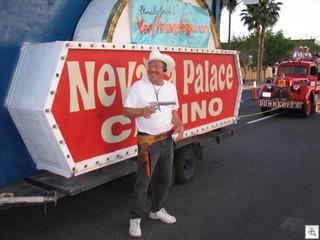 We had about a dozen regular readers and members of Classic Las Vegas along for the ride. We had our banners taped to the side of Dr. Lonnies truck and float. We had a great time. I saw a lot of Vintage Vegas residents in the crowd that I recognized, and several times someone in the crowd shouted out to me, but I didn't recognize them.
If you didn't watch on TV, or weren't there, all the pictures I took are on the facebook page. They're in 2 separate albums. Part ONE, and Part TWO Here's a few highlights and a video I shot during the Helldorado Rodeo.
Archeaological Awareness and Historic Preservation Month is drawing to a close. There's one main event left which is Clark County Centennial Day.
May 23: Celebrate Clark County Centennial Day at the Clark County Museum, 1830 S. Boulder Highway, Henderson from 11 a.m. to 3 p.m. There will be activities for the whole family, book signing and tours of the restored buildings on Heritage Street. Call 702-455-7955 or go to www.accessclarkcounty.com/100 for details.