Preservation Association Of Clark County Spotlights The History Of Gilcrease Orchard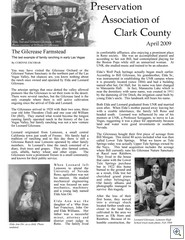 One of the gems of Las Vegas is the Gilcrease Orchard. The history of the Orchard and Preserve, as well as it's current status, has been spotlighted in the April newsletter from the Preservation Association of Clark County. I translated the newsletter in JPG which should be clickable to see an expanded version.
There's even more history and commentary on the Early Vegas Ranches Blog
We don't know if it will reopen this summer or not, but we're watching and will keep you posted.
The Preservation Association of Clark County is the oldest non-profit preservation group in Clark County. It was established in 1974. We attended the annual meeting last Friday night at the Historic 5th Street School. Corinne Escobar was once again elected to be the President. Like every other non profit organization in the world, new members are welcomed and needed.