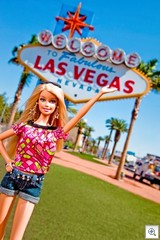 Barbie's coming to Vegas! Anyone have more info on the Barbie Suite at the Palms?
From Barbies Blog, All Dolld Up:
Viva Las Vegas!! It's been a busy and exciting six months!! With my first-ever Fashion Week runway show and a little birthday party I threw at my Malibu Dream House with a few of my friends, it's time for some fun in the sun!
With sparkly lights everywhere, shopping galore and sun sun sun – what better place than Vegas to kick-back and celebrate?! I'm packing up my VW Beetle convertible, strapping on my stilettos and heading to Las Vegas for the first time where I will be staying at the all-new Barbie Suite at the Palms Casino Resort! I'm so excited…
Look out Vegas, I'm about to turn Sin City into Pink City.