Just because Historic Preservation Month has come to an end, doesn't mean we can stop learning about the history of Las Vegas.
Lynn Zook from Classic Las Vegas is the best Las Vegas History Blogger that there is. The Classic Las Vegas History Blog should be on your regular reading list. It's at the top of my list. Lynn reminded us of three different history events this week.
On Thursday, June 4th,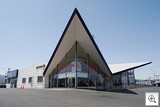 Untold Stories will look at Architecture in Las Vegas. Most people tend to think that Las Vegas has very bland architecture with just cookie cutter type homes and McOffices. But our past (and present) is filled with wonderous examples of soaring architecture and many of these wonderful buildings are still standing, though they may be harder to see these days buried behind new facades.
Panelists include: Architect Eric Strain of Assemblage Studios: Karen Zick Goff, daughter of architect Walter Zick (who designed the Mint Hotel; George Tate, architect with quite a history in Las Vegas
Untold Stories is at the The Las Vegas Springs Preserve Desert Learning Center, Thursday, June 4th, 6:30 pm (Get there early as I've put together a great DVD for this one!) Admission is $12
Friday, June 5th:

From Guy McAfee to Bugsy Siegel to Moe Dalitz to Frank Rosenthal and Tony "The Ant" Spilotro, the Mob has had a hold on the imaginations of most people who love "classic" Las Vegas.
This Friday I will be giving a talk that will cover not only the historical points but also talk about the difference between guys like Benny Binion and Moe Dalitz and "Lefty" and "The Ant".
Also, I will have autographed copies of my book "Las Vegas: 1905-1965" for those interesting in purchasing one or more!
I'd love to get a head count (even an approximation) so I can be sure that we have enough chairs! You can email me! [email protected]
3:30 pm Friday, June 5th
El Cortez Upstairs across from the Executive Offices
Event is free
Hope to see you there!
Friday June 5th:
The Clark County Centennial Roundtable Discussion looks at the Early History of the Las Vegas Strip with panelists:

Betty Bunch, Lisa Medford, George Stamos, and Peter Anthony
6:00 pm – Clark County Government Center (Bonneville and Grand Central Parkway)
Event is free
Hope to see you at all three!
"Las Vegas: 1905 – 1965" by author Lynn Zook, autographed copies available at:
www.classiclasvegas.com/coolstuff/coolstuff.htm

Become a Friend of Classic Las Vegas today!
www.classiclasvegas.squarespace.com (blog)
www.classiclasvegas.com (website)