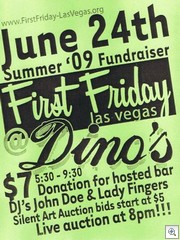 If you've been meaning to meet some of the movers and shakers of the Downtown Arts Scene, Wednesday night would be a good time to do it.
Dino's is one of those downtown bars you ought to know about. It's at Oakey and Las Vegas Blvd. It's been there for a little longer than forever.
Come on down and make a small donation to help us keep First Friday afloat.
If you can't go, then donations are still welcome.