Well, this looks like fun!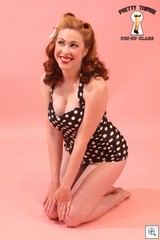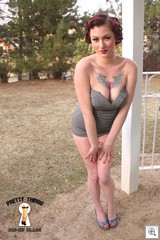 Besides a travelling Burlesque and Sideshow, they stop in various towns along the way and give classes in vintage make-up, hair and clothing, and do photo shoots of the students as pin-up girls.
Amy needs a place to hold her class on July 9th. I know one of you has a very cool retro living room, or an art gallery, or a something that would make a great setting for the photo shoot and class.
All the pictures are from past classes.
Amy tells more, and asks us for help.
Hi UncleJack,
My name is go-go Amy and I teach a class on vintage pin up modeling called HOW TO BE A PIN UP GIRL. We have taught this class all over the world and are looking to have one in Las Vegas on July 9. We are looking for a location. Usually the class is from 2pm-8pm but we are flexible on time. In the beginning of class we teach our students how to do vintage hair and make up then we get them all dolled up and we do pin up photo shoots with them. If you have a cute space that would make a good background that would be great. If you would like any more information on the class please visit our website www.prettythingsproductions.com or feel free to ask me.

Please let me know if you would be interested in working with us on this event so I can get to work promoting it.

Thanks so much for your time,
go-go Amy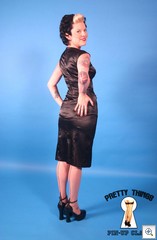 If you've got a space, or have a suggestion, please email her at [email protected]
www.prettythingsproductions.com
www.myspace.com/prettythingspeepshow
www.twitter.com/prettythingsps
http://www.facebook.com/pages/Pretty-Things-Productions/34243079395
Even though they they're only doing the class here, I think you'll get a kick out of the vids that are on her website from past performances of the the PrettyThingsPeepShow.
I used to spin a good yo-yo when I was a kid, but now I know I was kidding myself. Check out the best Yo-Yo act I've ever seen.