Everyone says they're looking for a bargain. How does 11 dollars a square foot sound. I was joking around a few months ago when we started seeing 25. a square foot homes in fabulous neighborhoods – "They can't go to zero – OR CAN THEY?) I'd think that 11/sf in a not so good neighborhood would be comparable to a home in the same condition in a much better neighborhood. Am I wrong?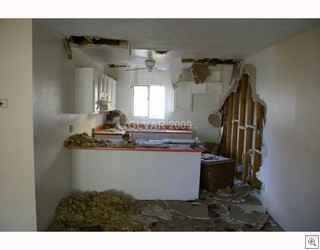 The 11 dollar per square foot one is a $35,000 for 3168 sf near Bonanza and Maryland Parkway. Every room is torn up like this. The neighborhood is NOT one that I'm routinely promoting.
I'm sure some appraiser will use it as a comp for a 3000 foot house that's been loved and cared for in one of the historic neighborhoods.
There seems to be an epidemic of lazy, stupid appraisers making stupid illogical assumptions. New appraisal rules are causing even more problems and are taking longer to give us even LESS accurate assessments of value.
Appraisers are supposed to know the difference between Oakey/Maryland Parkway and Bonanza/Maryland Parkway. The new appraisal rule are allowing appraisers to NOT EVEN GO TO THE PROPERTY!
They're supposed to know the difference between the kitchen above……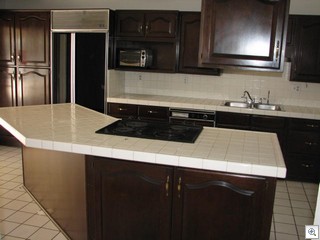 and this one. (yes, I know it's real 80's, but it's perfectly livable and functional, and doesn't look bad at all for being what it is).
Yet the island kitchen with the subzero fridge is in a house that's only listed for 25. a square foot. And it's in one of the better neighborhoods in Vintage Vegas.
I'm not blogging which house this one is, because I've already written offers for 2 buyers, and there's probably 25 offers on it since it was listed on Thursday.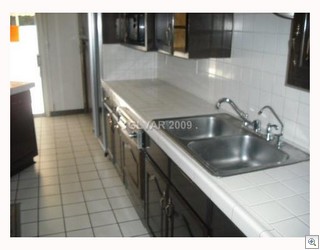 This is the only kitchen picture in the MLS. I often wonder if they listing agents deliberately sabotage the listings to justify their ridiculous sales prices. I think showing an island, subzero fridge etc. might cause the house to be attractive to a lot more buyers. Instead, they just go for the ridiculous price to get the buyers out.
(If you want to be notified of listings like this the minute they hit the market, all you have to do is save your search in our MLS finder, or make an appointment with me and I'll set you up on an auto program to notify you.)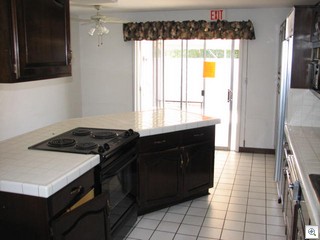 Here's another picture I took of the kitchen from the same spot the agent was standing. Between the 3 shots, I think someone could get a better feel for what the kitchen was like. I think if the Asset Manager (the guy in the cubicle at the bank with the 800 files stacked in the corner) had been given a true picture of the property, he wouldn't have listed it at 25. per square foot.
I know they just wanted to generate multiple offers, but since there's a shortage of nice livable (not fixer-upper, not shortsale) houses for sale in the Historic Neighborhoods – I think he'd have gotten the same kind of response if it was listed at twice that amount.
Most everything that's closing these days is closing at above – or way above the list price.
The multitude of buyers out their looking are willing to pay more. Now we have to get the appraiser and the banks to go along with the true market conditions.