It seems like New Years Eve was just a few weeks ago, but here we are heading into the Fourth Of July. There's plenty to do around Vintage Vegas. Lots of Art openings, First Friday, "Summer of '69"ing, "Red White and Boom" and so much more.
Thursday July 2:
First Friday Preview at most of the venues.

Marty Walsh's TRIFECTA Gallery opens with "Ripper Jordan" in the Arts Factory
Opening Reception 6 to 9pm.

Brett Wesley Opening: John Bell, "The Elegant Universe" at NEWPORT LOFTS.
Tinoco's Kitchen in The Vegas Club hosts a new showing by renowned artist Leslie Rowland. Opening reception is 5 to 7:30pm. Thursday July 2, Stay for dinner, or make sure to come back and use the coupon below.

Chef Tinoco has created a discount for VeryVintageVegas readers. I mentioned it last week, but now there's actually a coupon you can print for 15% off. Just click on it and print it out.
First Friday In The Downtown Las Vegas Arts District
First Friday again! Last month was the first time First Friday was done without closing off Casino Center. At first, that worried me. It turned out that I actually liked it better without the street fair. The response I heard was terrific. Everyone I talked to (except the under 18 – spiked hair crowd) thought it was much better. It was much more art oriented, much quieter – volume wise, more traffic to the actual galleries and restaurants. I think you'll like the new feel of First Friday.
I forgot to put up the latest video of First Friday from the SinCityArtGroup, so I'm throwing it in here. Marty Walsh is interviewed.
There's 2 new places you ought to visit this First Friday. They're both right across Charleston from the Arts Factory.
Our friends and downtown neighbors, Heidi and Peter have opened Las Vegas' first eco-friendly flower, gallery and gift shop called Gaia. Last month was their grand opening, but if you missed it, as I did, you should definitely stop in and check it out. It's not like any other flower shop you've ever been to. It's at 4 E. Charleston at Main.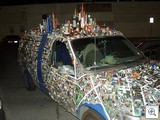 Next door to Gaia is Gary Siebel's new gallery/workspace. He hasn't named it yet, but he's doing a grand opening on Friday. You might remember Gary as he's the artist who did the "CityVan" (pictured). I'm not sure what else is going to be in his gallery, but he's saved much of the buildings that were attached to the now defunct CityVan, and there's a memorial to it on display.

Gary also took us up on our call for someone to host the "How To Be A Pinup Girl" class that's being held July 9th. Now we have a location at Gary's yet to be named gallery at 8 E. Charleston. Here's the official, newly created flyer for the event.
To register for the class, go to "go go Amy's" website PrettyThingsProductions
If you're really wanting to keep up to date on ALL the downtown art happenings, there's no better place than the "Contemporary Art of Las Vegas" Facebook Group. Yes, you'll have to be a FB member. You are on Facebook – Aren't You? If you're not one of MY facebook friends yet, please invite me.
Fremont Street Experience In Downtown Las Vegas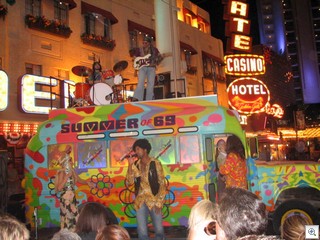 It's still the "Summer of '69: Vegas or Bust". The whole promotion has been a HUGE success so far. Fremont Street and all of Downtown Las Vegas is packed every night of the week, and this weekend is going to be extra special. It's the "American Pie 4th of July" spectacular. There's live music every night of the week, and this Friday, July 3rd will be "Janis Joplin's Big Brother and the Holding Company", and Saturday night's headliner will be "The Grass Roots". I did a separate blog post below this one with all the details for the entire weekend including the schedule for the VivaVision Shows.
Don't forget to visit the Hippie Nation Gallery.
"Star Spangled Spectacular" Moves To The Springs Preserve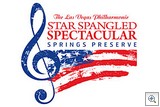 This year, Las Vegas' favorite and most patriotic pops concert has a new home: the Springs Preserve! Join us on Saturday, July 4 for "Star Spangled Spectacular" as we celebrate the birth of our nation with a fun and rousing line-up of patriotic music performed by the Las Vegas Philharmonic, under the direction of Conductor David Itkin. The concert will culminate with a light show finale.
Doors open at 6 p.m. and the concert begins at 8 p.m. in our beautiful outdoor amphitheater. Tickets are limited and available for purchase online and at the Preserve box office. There are three ticket levels offered:
VIP Package – $82.50 per person
Includes pre-concert VIP reception in the ORIGEN Rotunda with complimentary gourmet hors d'oeuvres, beer and wine service, and an exclusive tabled seating area in the amphitheater. VIP tickets are extremely limited. Please call (702) 822-7705 to reserve yours now.
Amphitheater Seating – $27.50 per person
Includes assigned concert seating within the Springs Preserve amphitheater and access to on-grounds food and beverage concession stations.
Grounds Pass – $17.50 per person
Includes non-seated access to the concert venue amid standing cocktail tables, as well as the balcony at the Springs Cafe by Wolfgang Puck, and access to food and beverage concession stations.
Springs Preserve annual passholders receive a discount of $7.50 off VIP or reserved amphitheater seating. Children 12 and under receive $7.50 off amphitheater seating or grounds pass (cannot be combined with passholder discount). VIP and Amphitheater seat assignments will be given on a first-come, first-serve basis beginning at 6 p.m. on July 4. Please bring your printed ticket with you.
To purchase your tickets now, click on the "Buy Tickets" button and then click the "General Admission" button in the pop-up window. "Star Spangled Spectacular" tickets can be found toward the bottom of the ticket list.
Comedy Club To Open In Downtown Las Vegas
The Four Queens Hotel & Casino is pleased to have entered into an agreement with the Joaquin Trujillo to bring some of the best and brightest comics to downtown Las Vegas. The Four Queens' L.A. Comedy Club will operate in the Canyon Club venue starting July 1. Shows will run Wednesday through Sunday, with new comics appearing each week. There will be one show on Wednesday and Thursday at 8:30 p.m., and two shows Friday, Saturday, and Sunday nights at 7:30 p.m. and 9:30 p.m It opens at the 4 Queens starting July 1. Shows are Wednesday to Sunday in the Canyon Club Show Room.
Las Vegas Fireworks Displays
As she does every year, Lynn Zook At Classic Las Vegas has up to the minute reporting on all the fireworks displays for Las Vegas.