Retro Vegas –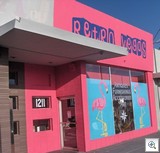 Our favorite mid mod furniture and home decor store needs to clear space for all the cool stuff they've been acquiring for the fall inventory. EVERYTHING IN THE STORE IS 50% OFF this week. Run – don't walk! They're at
I hope I can get there in time to grab those lamps I've been eyeing.
1211 S. Main, just south of Charleston. 384–2700
Huntridge Circle Park to become a Veteran's Memorial? I've known about this for a while, and Gary Reese tells me it's the best hope for the park. Some political balls would help also. I'm skeptical, and just want the park opened again. The non-profit that's trying to do it is starting their fundraising, however, and has put up a website. It's sure to be a hot topic tonight at:
AÂ meet and greet cocktail hour for new Las Vegas City Manager Betsy Fretwell TONIGHT (THURSDAY) 7/24 from 5 to 8pm at the Downtown Cocktail Room on LVBS at Fremont. Betsy has asked for people who are really into Downtown Las Vegas to stop by and meet her.
The Fifth Dimension – Saturday nights FREE concert is part of the Summer of 69:Vegas or Bust extravaganza that's going on all summer at Fremont Street Experience. I think I may have mentioned it once or twice. Based on the previous main event concerts, you ought to stake out your spot before 8:30. The concert is at 9 on the Third Street Stage.
It's A Girl Thing –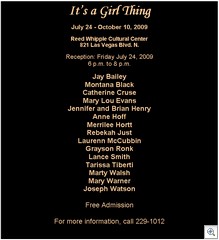 But I'm going anyway!
Reed Whipple Cultural Center
821 Las Vegas Blvd. N.
 
Reception: Friday July 24, 2009
6 p.m. to 8 p.m.
The exhibit runs thru October 24th.
(click the image for a bigger view)
Vegas Valley Book Festival Announces Keynote Speakers
 Kay Ryan And E.L. Doctorow To Be Featured At 8th Annual Las Vegas Festival
Kay Ryan, the Poet Laureate of the United States, and E.L. Doctorow, one of America's most acclaimed authors, will serve as bookend keynote speakers for the eighth annual Vegas Valley Book Festival, Nov. 4-8, 2009.
Ryan was appointed the nation's 16th Poet Laureate last year and will be making her first Nevada appearance as the opening keynote speaker at 7 p.m. on Thursday, Nov. 5, at the Historic Fifth Street School, 401 S. Fourth St. Ryan, whose work spans more than four decades, is known for her compact poems that revel in sly wit, wordplay and rhymes.
Doctorow is one of America's most admired and talented novelists from the second half of the 20th century. He will present the closing keynote address at 7 p.m. on Sunday, Nov. 8, at the Clark County Library, 1401 E. Flamingo Road. Both presentations are free and open to the public.
"Doctorow, as a writer, is profoundly interested in American life, history and its ambiguities," said Carol Harter, executive director of Black Mountain Institute. "He delves into our collective past from a variety of imaginative perspectives that are, quite simply, dazzling in the diversity of their forms and structures. And he does all this while appealing simultaneously to serious and popular literary audiences."
This year's keynote speakers are sponsored by Black Mountain Institute, Las Vegas-Clark County Library District, Las Vegas-Clark County Library District Foundation and the city of Las Vegas. In addition, Nevada Humanities and the Las Vegas Review-Journal are providing festival support, with the local chapter of AIGA, the professional association for design, as the official branding partner.
A celebration of the written, spoken and illustrated word, the Vegas Valley Book Festival is the largest annual literary event in Las Vegas. This year's festival will present more than 100 authors participating in a full schedule of readings, panel discussions, book signings, workshops, poetry and spoken word performances, exhibitions, children's literature and special events. All festival events are free and open to the public. 
For more information about the Vegas Valley Book Festival, call 229-5431 or visit www.artslasvegas.org\vvbf.