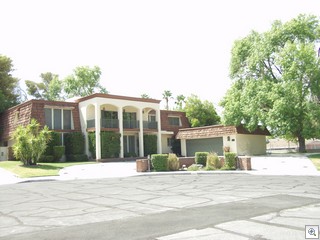 Maria Elena Drive is simply one of the coolest streets in Las Vegas for classic Mid Century Modern architecture. Sitting at the end of the street (which is really one of the few cul-de-sacs) is the Mansion.
It was built in 1970 and was the next to the last home built on this historic street. The street was developed by Joe Blasco, and was named after his daughter. According to Geoff Shumacher, in his book Sun, Sin & Suburbia, Mr. Blasco had arrived in Las Vegas in 1952 to be a subcontractor for an ammo storage project at the former marine base at Lake Mead. Eventually he entered the luxury custom home market, and one of his first project was the development of what became Maria Elena Drive. In 1983 he began development of Spanish Trails, which led the way to the whole luxury home golf course community trend in Las Vegas.
I'd always heard that the home at 1400 was actually owned by Joe Blasco, but there's conflicting stories. The tax record ownership history shows it first belonged to the Melvin Exber family until 1979. From 1979 to 1990 it was owned by the Steinbergs of Steinberg Diagnostic. It's been known as the Augustine home since then.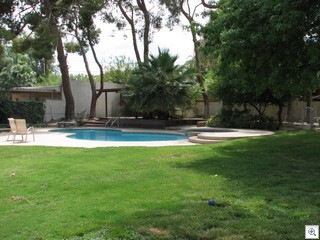 Though not Mid Mod from the front, all the lessons of merged indoor and outdoor living are incorporated into the the home. The upstairs loft has a wall of glass looking over the treetops to Sunrise Mountain, and both the kitchen and down stairs family room have expansive views of the back yard and pool setting on the .4 acre lot.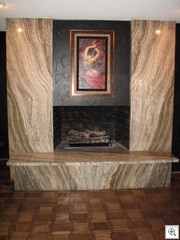 One thing about a 5600 sf home is that all of the rooms are enourmous. The "smallest" bedroom is 13×15. There's a ball room sized living room with one of the most gorgeous fireplaces I've ever seen. It's faced with a pockmarked split stone marble that is simply stunning.
There's more photos in the flyer in the featured home section in the left hand column.
I'm honored to have been chosen to represent this one of a kind custom home on one of the architecturally best streets in all of Downtown. The list price is $495,000.