We've survived another one. The weather lady says another day or two of over a hundred and we'll be in the mid 90's daily by Labor Day Weekend.
If you're not heading out of town, there's plenty to do.
There's First Thursday, and First Friday, of course. Newly announced when you click your way thru is the "Miss First Friday" Contest with the winner to be announced at the 7th Anniversary FF in October. Here's the full rundown of events and venues for Friday September 4th from 6 to 10 PM in THE DOWNTOWN LAS VEGAS ARTS DISTRICT!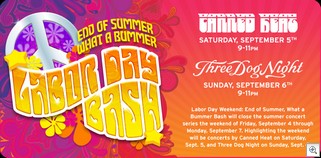 Canned Heat and Three Dog Night at Fremont Street Experience. The entire "Summer of '69: Vegas or Bust" promotion this summer has been a smashing success. If you haven't checked it out…..DO IT THIS WEEKEND.
While you're there……10 Historic hotels, dozens of great restaurants, free street entertainment, live music everywhere.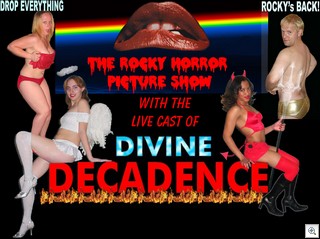 Rocky Horror Picture Show at the Onyx,
Every First and Third Saturday the Onyx Theatre in Commercial Center. Midnite – of course.
THEY'RE DOING ROCKY THE WAY IT WAS MEANT TO BE SEEN AND EXPERIENCED! Always audience participation, virgin sacrifice and cool pre-show.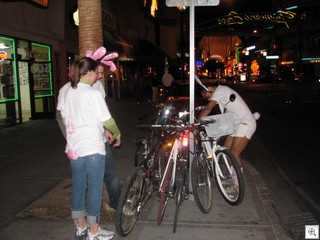 Pedalphile "Sweet 16" Bar Hopping on Saturday. This is a monthly bar hop thru downtown….done on bicycles! It's great fun, lots of diverse people. They alway bring bandaids for me.
Meet up 6:30 to 7pm in the parking lot of the Arts Factory at Main and Casino Center. Ride starts at 7, back at midnite. Which bar to go to next kinda gets decided at the previous bar.
This picture from April. Usually there's a theme. That night it was bunny ears. This week is called "Sweet 16".
I'm doing a party in Paradise Palms first and then Canned heat. We'll probably run into them during the evening.
Gallery Openings And Art Events include: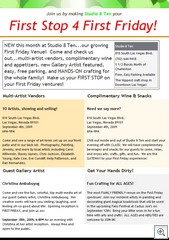 Studio 810 Expanding this month in to the parking lot and the front patio.
AND: Fun Crafting for ALL AGES! The most FAMILY FRIENDLY venue on the First Friday spectrum! Join our resident artists in painting and decorating giant magical toadstools that will be used in the upcoming Fairy Festival at Cactus Joe's on September 12th! Bring your little ones in for a fun time with arts and crafts! ALL AGES and ABILITIES are welcome to JOIN IN!
This is the hippest craft shop in Downtown Las Vegas. 810 S. Las Vegas Blvd.
Public Art Visiting Artist Lecture: Tues. Sept. 8, 7:00 p.m. at the Fifth Street School Auditorium.
Open to public, this lecture is sponsored by the City of Las Vegas Arts Commission in collaboration with the UNLV Department of Art.
One of the pioneering voices of installation art, Robert Irwin began his career in Abstract Expressionism before leaving the studio in search of ways to create spatially-sensitive art. His latest work is the design of the Central Garden at the Getty Center in Los Angeles, an ever-evolving landscaping project that seeks to create a full sensory experience for viewers through the introduction of new plant species and the attraction of natural wildlife that has come to inhabit the area.