The Silver Slipper Neon Sign To Be Installed Tonight In The Cultural Corridor Of Downtown Las Vegas
Cultural Corridor's Third Neon Sign Moves To New Home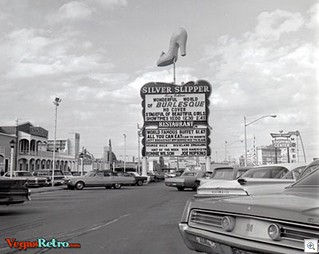 The last of three vintage Las Vegas neon signs will be set into place on Las Vegas Boulevard, in the Cultural Corridor, beginning at 11:30 p.m. tonight, Sept. 17. The completely refurbished Silver Slipper sign will be installed in a median island south of Washington Avenue, as part of the $1.1 million Neon Sign Improvement Project.
The famous slipper used to sit atop the Silver Slipper Gambling Hall, as a part of what used to be called the Last Frontier Village, a replica of an old western town on Las Vegas Boulevard. Although the Silver Slipper opened in 1950, the sign did not go up until the 1960s. The Last Frontier became the New Frontier, which was eventually absorbed into the Frontier. The slipper was designed by Jack Larsen, Sr., a designer at Young Electric Sign Company. The sign is 12 feet high and 17 feet wide. The slipper's main body contains 900 incandescent light bulbs, with about 80 more in the bow.
The Neon Sign Improvement Project includes the complete restoration of three historic neon signs for placement on Las Vegas Boulevard, from Bonanza Road to just north of Washington. New landscaped median islands are also being installed.
On Aug. 24, the Bow & Arrow Motel neon sign was set into place north of Bonanza. That was followed, a week later, by the installation of the Binion's Horseshoe sign north of Washington.
Once the installation of all three signs is completed, crews will work to provide power and conduct a series of tests prior to the signs being officially put into service.
These historic signs on Las Vegas Boulevard are in the heart of Las Vegas' Cultural Corridor. The corridor is made up of the highest concentration of cultural institutions in Las Vegas and includes Cashman Center, the Las Vegas Library, the Las Vegas Natural History Museum, Lied Discovery Children's Museum, The Neon Museum, the Old Las Vegas Mormon Fort State Historic Park and the Reed Whipple Cultural Center.
The three signs are also the first in a series of historic neon signs that will be completely restored and eventually placed on Las Vegas Boulevard, from Washington to Sahara Avenue, as part of the Las Vegas Boulevard Scenic Byway Program.
Funding for these improvements is provided by the Centennial license plate fund and the city of Las Vegas. The three neon signs are on loan from the Neon Museum.
Rafael Construction is the contractor. The city of Las Vegas Department of Public Works is managing the project. Construction started in May and the project is slated for completion in October.
(A tip of the fedora to Lee Plotkin for spotting this on the Nevada DOT Facebook page)
The photo above is from the amazing collection of famed Las Vegas photographer Robert Scott Hooper. His collection is at VegasRetro.com (warning– you'll get stuck there for a couple of hours)