Last week we introduced you to the mystery Led Zeppelin concert in Las Vegas. People have started coming forward who remember it and stuff is being dug up. One of the members of the band remembers the "wood floors" . I keep deferring to Classic Las Vegas, since the story was told to Lynn Zook this week by one of her regular readers (which should include all of the VVV readers, BTW). Lynn reports:
One of our daily readers contacted me with his remembrance of Led Zeppelin playing Las Vegas, at the Ice Palace, in 1969:

In 1969, it was announced on KLUC that Led Zeppelin would be playing the Ice Palace. The Ice Palace was not THE major venue in town that would be the Convention Center. I was confused.

Led who?

I went to Wonder World and found Led Zeppelin I. I recognized Jimmy Page from the Yardbirds, but who were Robert Plant, John Bonham and John Paul Jones? What was the big deal?

I called the Ice Palace. Maybe there was more to the story. I asked if it was true that Led Zeppelin was going to play the Ice Palace.

The guy said "Yeah." I responded, I swear: "Who else is playing with them?"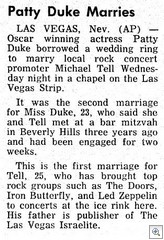 It was curious to me that in the "did Led Zeppelin play in Las Vegas" mystery thread at LedZeppelin.com they left no rock unturned. Little gems like this one got uncovered. They unearthed all kinds of tidbits and references to and about the Ice House.
I've really never been an "historian", per se. I leave that to the my friends and the professionals. I just try to remember what they dig up. Watching this unfold has been fascinating. "PlanetPage", who first contacted Lynn Zook and Brian Paco Alvarez, and then me a week later, has been one of the movers and shakers in trying to solve the mystery. She called me on Friday from Canada to personally thank us for trying to help them.
Last Tuesday, "FSMITH9095" made an interesting comment that I'd share with you if you're NOT going to read the entire thread from start to finish:
I love this stuff. Really interesting work everyone. Its combining the best of Zep,archaeology,civic record research,networking with interested folks and romantic memories. Sort of like Indiana John Paul Jones.. :slapface:

Las Vegas seems to have an especially strong attraction in that it is/was a mystery date and also the city itself holds a mystique and energy about itself.

I've always thought it would be great if someone published a coffee table book chronicling the venues in which Zep played;photos of the actual houses of the holy.
I'm sure there will be more developments. They're getting peoples recollections, but someone, somewhere took a picture, or kept a ticket, or made a secret "boot – short for bootleg" recording.