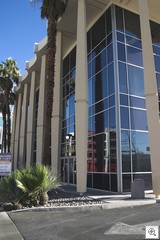 The panel discussion, "Beyond the Mint: The Mid Century Modern Architecture of Walter Zick, with Alan Hess, is open to all who show up. It'll be SRO, but shouldn't be missed if you're into Las Vegas History or Mid Century Modern Architecture.
The bus tour which follows the panel discussion is sold out. There's a waiting list in case of no shows. So you can still get on the waiting list (702-486-5205 x 121). Even if you can't get on the bus, you 'll learn a whole lot about Las Vegas history, and Mid Century Modern Architecture.
Saturday, October 3rd.
Nevada State Museum
700 Twin Lakes Drive in Lorenzi Park
11:30 am: Reception
12:00 pm: Panel Discussion featuring noted Mid-Century Modern historian and author (and big fan of the Mint Hotel), Alan Hess; architect Eric Strain of Assemblage Studios and Walter Zick's daughters, Karen Zick Goff and Claire Zick Walker.
Admission price for the Panel Discussion is $3, reservations for the Panel Discussion are NOT necessary.