October 2, 2009 6:00 pm -10:00 pm
A special note from the founders of First Friday!
October First Friday we are celebrating 7 years of Las Vegas favorite arts event.

We think it is fitting that on our 7th anniversary we have come full circle. An event that began as a grassroots effort by the arts community is now back to being a grassroots event. When Whirlygig, the non-profit arts organization that produces First Friday, was just three people we used to say this was our baby (yes we were all women) and that we would have to nurture it and watch it grow, reeling it back in when it became a teenager and once again watching it as it matures into a young adult. And what a lovely adult it is becoming with the help of the City of Las Vegas Office of Cultural Affairs, the Whirlygig Board, Las Vegas businesses and area galleries, studios and artists. Thank you to all who have supported First Friday Las Vegas. We hope you will join us for another entertaining, educational and fun filled evening at our 85th consecutive arts event .
MISS FIRST FRIDAY– Tony James will be hosting our first Miss First Friday Las Vegas contest @ 8:30pm on the stage . Miss First Friday will be a representative of the event for one year.
Be sure to stop by the Clear booth for all of your wireless needs, Paul Mitchell for the lastest in the art of hairstyling and The Art Institute to find out how you can partipate in their art education programs.
We will be hosting more than 50 artists on the sidewalks and in the gallery spaces within the outdoor festival area on Casino Center Blvd and Colorado Ave.
LIVE MUSIC and DANCE ON STAGE (Casino Center Drive at Colorado – inside the FREE outdoor festival area)
6pm The Nevada Ballet Theatre
7pm Riezians Rotting Brian-80's Pop
8:30pm Miss First Friday announcement
9pm The Lucky Cheats–Rockabilly
Break dancers provide more entertainment on Colorado Blvd.
For a Complete Schedule of events, performances venues and transportation, visit The First Friday website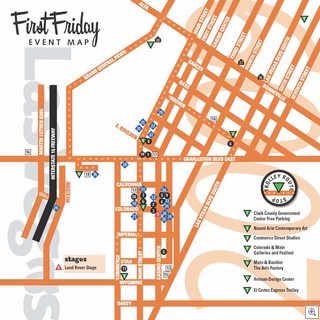 First Friday is the showcase monthly event in the Downtown Las Vegas Arts District. The map is clickable if you want to see a full sized version.
The Downtown Las Vegas Arts District is on both sides of Charleston, between I-15 and Las Vegas Blvd.
The "Art Scene", "The Music Scene" (which is centered around the Fremont East Entertainment District) and the "History Scene" are all important elements of the culture of urban living. That's why VeryVintageVegas promotes them along with the historic neighborhoods and Mid Century Modern Homes which surround Downtown Las Vegas.
I hope you're getting it that there's lots of reasons to live urban in Las Vegas.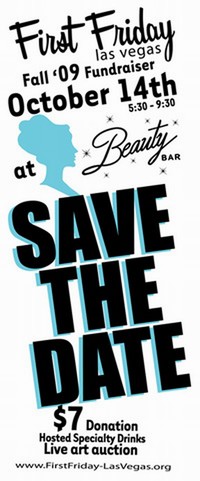 With the help of corporate and City of Las VegassSponsorship, First Friday remains a free event. However, they do take donations, and have wonderful cocktail party fundraisers. The next one is on October 14. It's a great time to meet the movers and shakers and many of the local artists. We hope you'll attend as well.