Las Vegas history is one of key topics we cover at VeryVintageVegas. There's 3 events this week for those of you who are looking to discover the roots of our city. Don't ask me how I'll get any work done this week. I promise we'll do some real estate stuff this week, as well once we've covered the art, history and music scenes.
Thursday, October 1st: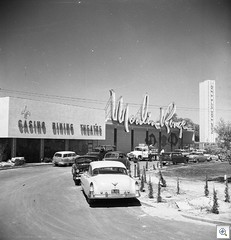 The UNTOLD STORIES series continues with a panel discussion and slide show on the topic of "The Moulin Rouge", the first racially integrated hotel and casino. From it's beginnings to the recent fire that finally destroyed the building, there's a fascinating story.
From the Classic Las Vegas website:
On October 1st, we are focusing on the history and myth surrounding the famed Moulin Rouge Hotel on the Westside of Las Vegas.

The hotel opened in 1955 as the first integrated hotel and casino in town. The opening night was attended by some of the biggest names in entertainment. Everyone had high hopes for this wonderfully designed (by Walter Zick and Harris Sharp) hotel with its giant, neon-script sign (designed by Betty Willis).

The hotel seemed to flourish and stories have been handed down over the years of deserted casinos on the Strip late at night because everyone was at the Moulin Rouge gambling, hanging out and enjoying the jam sessions and the late, late show.

In less than two years, it was closed. Rumors have been rife for years of the mob being involved, of financial improprieties and more.

On Thursday, Oct, 1st, we will try to distinquish fact from fiction, history from myth and try to discern what really happened.
For time, place, and cost….here's the link to the announcement at Classic Las Vegas
SATURDAY, October 3rd: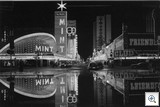 VeryVintageVegas is pleased to be one of the sponsors of "Beyond the Mint: The Mid Century Modern Architecture of Walter Zick". The location is the NEVADA STATE MUSEUM at Lorenzi Park on Washington, west of Rancho.
The bus tour of the Walter Zick buildings that still exist is sold out, and there's a waiting list to take the place of any no shows.
Alan Hess is the featured panelist. There's a reception at 11:30am and the panel discussion is at Noon. Again, to Classic Las Vegas for all the details.
Monday, October 5th: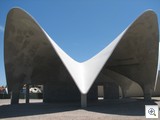 Alan Hess, the pre-eminent architectural historian is lecturing on the Mid Century Modern legacy of Paul Willams , and the fascinating topic of "Googie". This event is at 7 pm, is free to the public, and will be held at the Historic Fifth Street School.
Paul Williams designed the conch shell lobby of the La Concha hotel here in Las Vegas. It was saved from the wrecking ball, and will be the new visitors center at the Neon Museum. It's as good of an example of Goggie as there is.