Beyond The Mint Bus Tour And Panel Discussion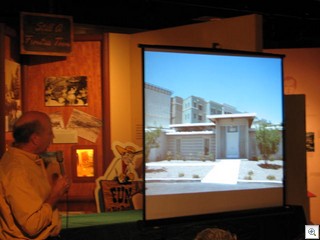 It was a full day and full house! We began with famed architectural historian Alan Hess giving an overview of modernism in general. He touched briefly on it's origins in the Bauhaus School and how modernist postwar architecture took on it's own uniquely American flavor.
TONIGHT Alan Hess will be discussing the "googie" style of highway architecture at a lecture at the Historic 5th Street School (on 4th Street – don't ask me why) 7pm.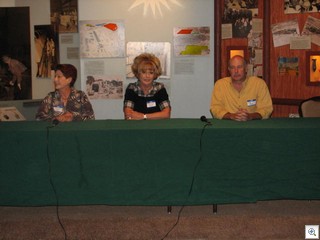 We were honored that Walter Zick's daughters Karen and Claire were on our panel. I learned that it was Bugsy Siegel that actually brought Walter Zick to Las Vegas. We learned that their first family home was on Skoglund Circle off Washington at Valley View, and that later they moved to Paradise Palms and that the girls were embarrassed that they lived in a home that their father hadn't designed. He said the Palmer and Krisel designs were so good that he didn't need to do the work to design a home for them.
Karen is on the left and Claire is in the middle. Alan Hess is on the right. Eric Strain from Assemblage Studios was not able to be on the panel at the last minute.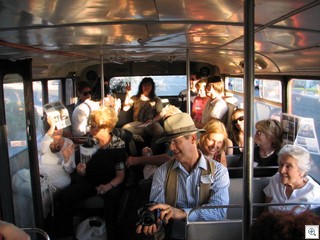 About 100 people were in the audience for the panel discussion and most of them were able to get on the double decker bus for the tour of the remaining Walter Zick and Harris Sharp buildings.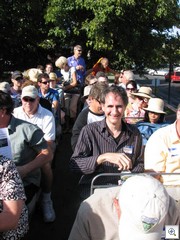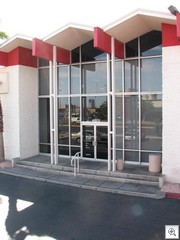 The first stop was the (now) Bank of America Building at Decatur and Charleston featuring it folded plate roof design.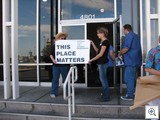 We drove by Westgate Shopping Center at Charleston and Valley View, and UMC hospital. Brett Wesley Spears, BRAND NEW mid mod at Charleston and Casino Center (grand opening of the first new mid mod and first new building in the Arts District – Thursday evening).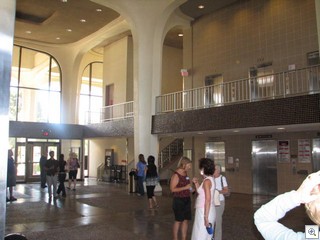 A trip down Maryland Park Way took us past several Zick and Sharp bank buildings. We stopped at Flora Dungan Hall at UNLV.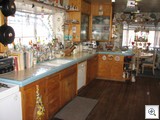 The next stop was the "Mayme Stocker Home" on Bracken. It features the rare full basement, weeping mortar, and is totally original the way it was finished in 1952.
I gave everyone a walking tour down Maria Elena Drive (where I have the Kathy Augustine Mansion Listed).
We spun thru Downtown Las Vegas to show off Lawyers Row (the only 1920's and 30's neighborhood) as well as the vacant Foley Federal Building, the Nevada State S and L building (now the downtown post office), The Union Plaza, and the old Clark County courthouse which were all Zick and Sharp.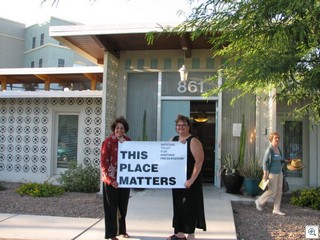 Our last stop of the day was at the Morelli House (there's 2 upcoming OPEN HOUSES at the Morelli House…I'll invite you in a few days)
Watch for Lynn Zook's report on the tour at Classic Las Vegas. She'll have hers up in a day or so.
Thank you to all who attended. It was a memorable and education day for all.