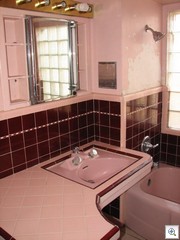 We haven't done one of these in a while. If you're a new reader, you might want to review the entire series of "Fun Features Found In Foreclosures".
Of course there's already multiple offers on this 1953 Downtown Las Vegas Mid Century Modern home. That's normal these days.
I wanted to share this bathroom with you, as a great example of the gems that pop up now and then. I love the bright colorful bathrooms of the 50's and 60's. I always hope that they'll be restored with new grout and appropriate flooring for the era.
I'm not the only one who loves them. Pam at Retrorenovation has been featuring them all last week, and even has a sister blog called "Save The Pink Bathrooms".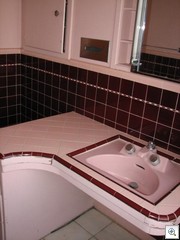 Of course they don't HAVE to be pink. The colorful mid century modern bathrooms in Las Vegas also came in maroon, blue, yellow, grey and black (like mine), turquoise and many others.
One of our goals is to convince people to STOP RIPPING THEM OUT! Clean them, regrout them, play up the color or play it down. But don't destroy them arbitrarily.
Granted, some just aren't worth saving when they've been abused, beaten up, or have water damage to the walls behind the tile. But otherwise……
Pam says it real well in the opening essay of her week long excursion into pink bathrooms:
Pink Bathrooms: The Most Endangered Feature of Mid Century Modern Homes Across America

A TOPIC LIKE "SAVE THE PINK BATHROOMS" deserves a snazzy homepage. So recently my fabulous designer Suzy Massey came up with a fresh look for the site, which has been up since July 2008. But even though it's meant to put a smile on your face, Save The Pink Bathrooms has a goal that's quite serious. I believe that vintage pink bathrooms are at a tipping point as mid-century homes continue change hands, often for the first time, in a major generational shift. The risk: While a new generation of owners may love the quirky spirit of their pink bathrooms, just as many may rip them out — only to regret it later.

How can this little campaign help?
After a full year of running the Save The Pink Bathrooms (STPB) site, I have testaments from many, many people who say that they changed their minds — and decided to keep their pink bathrooms — after learning just a little about them. That is: They found STPB when they were looking for ideas to get rid of the pink. They got sucked in, started reading more history, saw other homeowners' bathrooms — and changed their mind 180-degrees. They decided there were reasons to love, and retain, their pink bathrooms after all.

There is nothing wrong with pink bathrooms. Au contraire, they are quite wonderful. It's just that we — modern consumers, often guided by what what see in mainstream media and the newest trends promoted by color marketers — may not yet have the information to understand this iconic mid-century color. I am old enough to know that one year hemlines are up, the next, hemlines are down. It's the same with color. Marketers have an incentive to lure us from one color trend to another. I am not against making a buck. I am not against color trends. I am not against renovation using new materials. And believe it or not, I am not against gutting a pink bathroom and replacing it with something else. What I am "for" is getting to know these bathrooms before arbitrarily destroying them. The goal with Save the Pink Bathrooms is to tell the story… and for those who ultimately decide that this mid-century color rings their bell, to provide an alternative to gutting, along with the resources — and confidence — to play it up.

This week, I'll be shining more spotlight on pink bathrooms to keep the momentum going.
Here's a few bonus shots of other colors of bathrooms that we often find in the vintage Mid Century Modern homes of Las Vegas.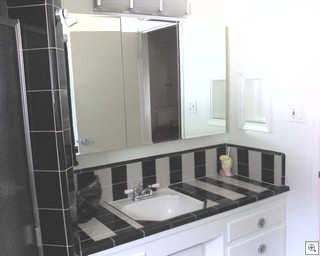 This is the grey and black bathroom in my home.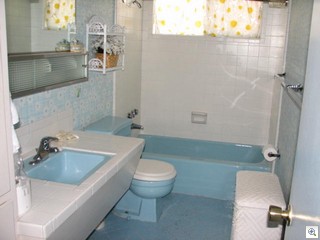 When we say pink bathroom we really mean all the great colors.
If you REALLY want to see more, there's almost 1000 photos in the FLICKR ALBUM for Save The Pink Bathrooms