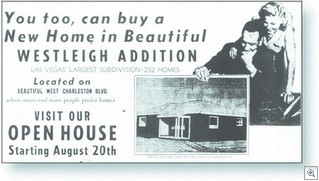 We've seen this before. Misinformation campaigns designed to stop a neighborhood from achieving "Historic Neighborhood" designation. It happened when John S. Park Neighborhood was applying, and it's happening again…..this time at the Westleigh Neighborhood.
Westleigh was built between 1952 and 1955, and was labeled at the time (see the ad) as "Las Vegas' LARGEST subdivision – 252 homes". Westleigh is the 4 north south streets to the east of Valley View, between Oakey and Charleston.
The Westleigh Neighborhood Association has spent 3 years working on obtaining Historic Neighborhood Designation. One of their representatives sent me this note, and asked me and my readers for some help.
Specifically, we'd like to hear from those of you in John S. Park Historic Neighborhood. Will you use the comments section for this post to tell us your experience with living in a designated Historic Neighborhood. We need your comments to share with the Westleigh Homeowners that are being manipulated with fear tactics from the opposition.
Dear Jack

In September the Westleigh neighborhood was before the Planning Commission to become a historic district. Some opposition to this showed up and the Planning Commission asked that more meetings be held to get information out in the neighborhood.

This Thursday night is the Westleigh neighborhood meeting for the historic designation. It is at 6 p.m. at Vegas Verdes Elementary School (4000 El Parque Ave. on Oakey, west of Valley View). A front porch meeting will also be held on October 31 at the intersection of Melville and Ashby from 9 a.m. to noon. A petition in support of this designation will be available for everyone to sign.

The Planning Commission told the Westleigh neighborhood to have these meetings in order to correct some misinformation that has spread throughout the neighborhood. People were told having a historic designation would lower their property values, the Historic Commission would act as an HOA and residents would need approval just to plant a rose bush. In fact, many papers have been written showing that values don't decrease and in most cases, they increase. The Historic Commission would not be an HOA, no dues would be paid. Alterations not requiring a permit are allowed so you can still plant a rose bush.

The Westleigh Historic designation will be heard at the Planning Commission's November 5, 2009 meeting. The Westleigh neighborhood needs your support. Please try to attend any of the meetings, call or email your City Council members (http://www.lasvegasnevada.gov/Government/council.htm), post comments on Jack's blog, etc. to support the hard work the Westleigh neighborhood has done over the past three years to achieve this historic designation. I've also attached some information about what the historic designation would mean to the Westleigh neighborhood.

Thanks,

Nick Bennett
Southridge, Beverly Green and other neighborhood associations are currently in the planning stages for Historic Designation as well. Let's build the case now, and keep this from happening in the future as well.
If you want a really good read, here's the Westleigh Neighborhood Historic Resource Survey that was conducted to guide the city as to whether Westleigh should be eligible. Here's the actual City of Las Vegas Historic Designation ordinance and the official FAQ brochure on Historic Preservation from the City of Las Vegas.
Here's a flyer that's being sent to Westleigh residents to help get out the truth. Hearing it from John S. Park residents as well, would be a big help.
GET THE FACTS
on
HISTORIC DESIGNATION
Have you heard things you're not sure are accurate?
Are you concerned about the effects an historic designation may have?
Do you have questions you'd like answered from an official source?
Please join Westleigh Neighborhood along with the
City of Las Vegas Planning and Development Department
October 22, 2009 at 6:00 pm
Vegas Verdes Elementary School Cafeteria
4000 El Parque Avenue
Also visit the official HISTORIC PRESERVATON site at:
http://www.lasvegasnevada.gov/information/17473.htm
A HISTORIC DISTRICT DESIGNATION FAQ Brochure at:
http://www.lasvegasnevada.gov/files/FAQ_HistoricDistrictDesigation.pdf
TRUE . . . . .
· May maintain or increase property value
· May add an extra layer of protection against encroachment
· Will provide design guidelines
· Will designate a property owner to be a representative on the Historic Preservation Commission contingent upon interest and availability
· Will maintain the original intrinsic integrity and value of the homes
· Will only affect changes requiring a permit
· Will be able to landscape
FALSE . . . . .
· There will be Dire Consequences! (this will not be comparable to a bomb/missile going off)
· Rental property control
· Retroactive (no one will be required to make changes to their home or repaint)
· Create a homeowner association (there are no fees or regulations/rules aka CC&Rs)
· Prevent homeowners from making any changes to their home (Alterations not requiring a permit will not be affected. Changes which require a building permit will be subject to review by the Historic Preservation Commission for compatibility with significant historic architectural features of the neighborhood.)
Historic buildings are protected by the Las Vegas Zoning Code Chapter 19.06.090 see: http://www.lasvegasnevada.gov/files/Chapter_19.06.pdf
[Chapter 19.06.090 is on page 19 of the document and page 25 in "pdf" format]
See Sept 24th Planning Commission Agenda Item #25 DIR-35476 at:
http://www5.lasvegasnevada.gov/sirepub/pubmtgframe.aspx?meetid=608&doctype=agenda
Visit Westleigh Neighborhood Association website and follow the "Discussions" at: http://www.neighborhoodlink.com/vegas/westleigh