Swing Dancing In Las Vegas –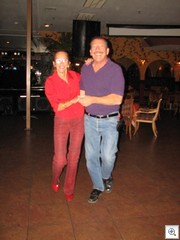 My whole life……I've lamented that I can't sing, can't dance, can't draw. I'm color blind, and tone deaf, as well. Oh Woe Is Me!
In trying to change at least one small part of that….I'm taking swing dance lessons most every Wednesday night at Las Palmas Mexican Restaurant in the Commercial Center. There's a free beginner lesson from 7 to 8 pm, and then open dancing till about 10
There's a huge social-dancing underground going on right under our noses. I wasn't aware of it till a few weeks ago, and I'm betting lots of you don't know about it either. We were at Don't Tell Mama one evening and this young couple got up to dance. They knocked our socks off! After they finished, they filled us in on another "there's no culture" cultural scene that I knew nothing about.
Wednesday is SWING, and Tuesday is Salsa and Thursday is Tango. That's just at Las Palmas.
Friday is Swing Night at the ARUBA. Every night during the school year there's the UNLV Lindy Hop club. There's a lot of other venues and events that I haven't attended, but they're all listed on the calendar of the Swing Dance Las Vegas website.
There's also: "El Corazon del Tango" FRIDAY NIGHT TANGO at the SOUTHERN NEVADA CENTER FOR THE ARTS, 1310 S. 3RD Street, Between Colorado & Imperial from 9:00 pm to 1:00 am. It's The Only Milonga held in an Arts Center. Refreshments Provided, Bring a friend $10/Person or $18/Couple (Cash Only). Check it out after first Friday. Our friend Sharon Linam is the hostess. Email her for more info tangomama_la@yahoo.com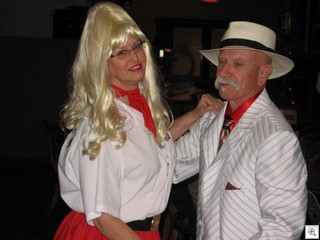 This is something for everyone of all ages. Last night was their Halloween costume contest. About half of the 50 attendees were in costume. Ages last night ranged from 18 to 80, (well, maybe 70).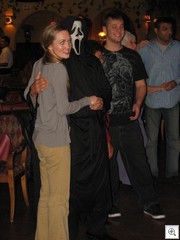 I've met all kinds of interesting people at the few events I've attended. They're all dedicated to having fun. If you've ever wanted to learn to dance, there's a whole bunch of people out there willing teach you and to dance with you.