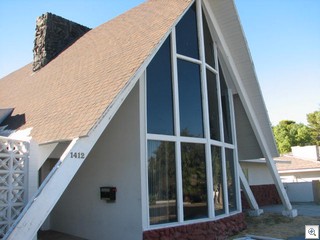 One of the few "A-FRAMES" in all of Vintage Vegas is on the market. Actually, it's been on the market for well over a year – first as a short sale and now as a Bank Owned Foreclosure.
It's at 1412 Maria Elena Drive in the custom homes section of Downtown Las Vegas. Maria Elena is a fabulous street of diverse styles. It's practically everyone's favorite street in Downtown Las Vegas. You can get there by going north on 15th from Oakey, take a right on Bracken, and the first street on the left is Maria Elena.
This A-Frame and several others are pure Mid Century Modern. The only other property for sale is my listing at 1400 Maria Elena, at the end of the long cul-de-sac street.
The two homes couldn't be more different, not only in style, but in how they've been taken care of. The A-Frame has been beat to death. I've been asked many times over the years about what it looks like inside.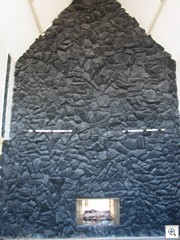 Other than the grand space of living room and family room, it's such a major fixer upper that there's no way to get a decent picture. None of the 5 bathrooms are worth salvaging, the kitchen was replaced 20 or 30 years ago and is so used and abused that it's no worth saving. I couldn't figure out how many different additions have been made to the house. All told, they add up to 4671 Square Feet. It's listed for 196,000, which is $42/sf. An ambitious person will need a couple hundred thousand to make this one right again. I'm really hoping there's someone out there that will do it over properly.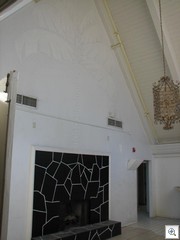 The one fabulous and fun feature that could be worked around is the massive lava rock fireplace wall that mirrors the shape of the a frame front of the house.
The back side of it is in the family room. Both the living room and family room have exposed beam, tongue and groove ceilings. Other than that, it's totally a gut job.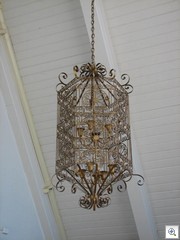 Fun Features Found In Foreclosures – John S. Park Historic Neighborhood In Downtown Las Vegas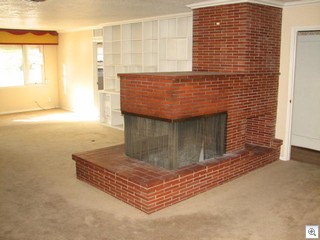 I'm tracking most of the vacant homes in Vintage Vegas, and am watching and waiting for them to come to market.
I've usually got one or more of my clients waiting to find out what the price will be and what condition it's in. This one wasn't even listed as a short sale, and no one told me that the owners had moved out. It just "popped up" out of the blue yesterday. Listed for 85,000, but offered for cash or conventional only due to problems with the roof, electric, heat/air and plumbing.
(If you see a house suddenly go vacant….please, give me a call so I can put it on my radar)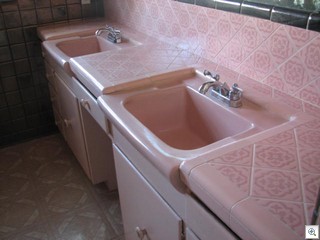 I just had to show you the great fireplace and one of the classic "pink bathrooms" in this home in the John S. Park Historic Neighborhood of Downtown Las Vegas.