City Center: Good friend and fellow blogger Steve Friess has pictures and commentary from a pre-opening tour of City Center. I'm hoping as he does, that a major grand opening will give Las Vegas a shot in the arm. His pictorial is in two parts. Here's the link to part 1 in case you missed it. .
Berkely Square: It's official! Berkley Square, designed by mid-century modern architect, Paul Revere Williams, was the first subdivision to be built in Nevada by and for African-American residents of Las Vegas. It is now on the National Registry of Historic Places! Read rest of the story at Classic Las Vegas. There's a newly updated story posted there by Courtney Mooney, the historic preservation officer for the City, about Berkley Square as well.
Modernist Brazil: I'd already spent much too much time on the photo stream of Mid Century Modern Brazil. Julian Weyer took all the pictures. I found it at Mid-Century Modernist. 2 different readers sent me links to it as well, so let's share it with everyone. Do read the post at MidCenturyModernist, but here's a direct link to the Flickr page as well.
Mondrian: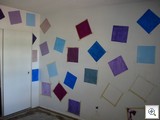 I don't think this is what Piet Mondrian had in mind when brought to us the world of color blocks. Pam at Retrorenovation shows us a much better use for Mondrian Blocks in some wonderful "Mondrian kitchens".
This picture will show up again soon at VeryVintageVegas.