Fun Features Found In Foreclosures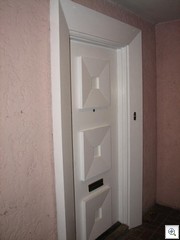 One of the truly great front doors of Vintage Vegas is on this foreclosure at 825 E. Oakey. If you're out and about, it's worth it to stop and take a look. I've admired this door for 25 years.
It's a mostly broken house, and offered for cash only. It came to market on Wednesday, and already has multiple offers.
Everything but the front door needs to be completely redone. Actually, the 1 bathroom still has it's original tile work, which can be saved. But it's so filthy and stinky that I couldn't even stay in it long enough to get a picture. The used syringe on the counter didn't help either.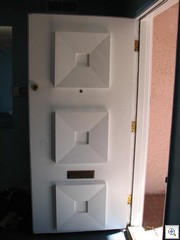 I think a design like this would be pretty easy to re-create (if you've got good carpentry skills) if anyone's looking to dress up a front door. It's really no different than building a picture frame.
The foreclosure inventory is very small right now. There's dozens of empty homes that we're watching that will come on the market eventually. This one had a sign out front for over 2 weeks before it got listed in the MLS. Our experience is that these are, for the most part, not eligible for FHA or VA financing, because of the "livability standard" that's required for Government backed loans. The banks are routinely taking their best cash offer.
We're seeing more "regular sellers" now, who for some reason waited till the bottom of the market. They tend to be in much better condition. They're much easier to deal with, but the competition for them is fierce.
There's also a lot of "flip" properties now, as well. Some of them have been cleaned up nicely, and some they've merely done some cosmetics without actually fixing the infrastructure.
It's a great time to try to buy, but it's the Reality Show of all Reality Shows. Twists and turns, and changing rules, and grumpy, overworked people to deal with. If I give you keys one day, that's how you know you've won the game. In the meanwhile, be ready for the ride of your life.