We haven't done any Las Vegas History lately. If you're new to VeryVintageVegas, it's one of the things we try to cover. I'm NOT the historian, just one of the students. Lynn Zook of the Classic Las Vegas, among others are historians. She presents a monthly panel discussion called "Untold Stories".
This month the topic is African American Entertainers in Las Vegas. We invite you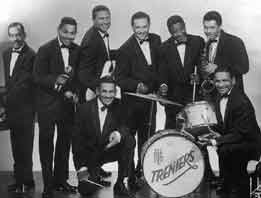 We kick off a the new year with our first "Untold Stories" on Thursday, February 4th with a look at African-American Entertainers in Las Vegas. We will discuss the early days of segregation up through what it is like to perform in Las Vegas today.
Panelists include:
Claytee White: Director of UNLV's Oral History Program
Skip Trenier: cousin to Claude and Cliff Trenier and member of the band
Sonny Turner: Lead singer of The Platters from 1960-1970
Michael Ryan Tyler: Musician who has played with Wayne Newton and others in today's Las Vegas
Thursday, February 4th, 2010
6:30 pm
Las Vegas Springs Preserve
Desert Learning Center
Admission $9
Discounts available if you buy a class pass!
Classic Las Vegas is THE BLOG for Las Vegas History. It should be one of your daily reads as well.