Some More On The Treniers – The First Televised Rock and Roll Performance?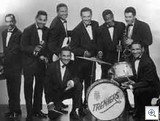 In preparation for Thursday night's "UNTOLD STORIES" panel discussion that I told you about yesterday, our regular reader and friend VegasJudy did some youtube digging.
The lady who posted this on youtube says:
"The Treniers, Dean Martin and Jerry Lewis on the Colgate Comedy Hour (May 1954). The first rock'n'roll performance on national television."
True or not, I wouldn't know….but I'm sure the panelists will.
ABSOLUTELY, if nothing else jump to 1:20 when Jerry Lewis shows up.
In case you don't want to get a lot of work done today, here's the rest of the links she sent along:
I'm passing this on to all my FCLV friends and others who either live in Vegas or are fascinated with its entertainment history (specifically, in honor of Black History Month), about the African-American entertainers who have added so much to the scene –

Here are some of my favorite clips and songs from the Treniers, first of all (watch them all if you have time – they're short)

http://www.youtube.com/watch?v=WiHlkxhZIZA (the only color clip – from one of the rock and roll movies popular in the late 50's)…


http://www.youtube.com/watch?v=w8wwa6yui68

(This is from the Martin & Lewis Colgate Comedy Hour – 1953?) Dean and Jerry join in.

One more – a little more on the R&B side –

http://www.youtube.com/watch?v=z5u8rzctQLg

they were really the forerunners and part of the shift from swing dancing to rock and roll (along with Louis and Keely, and several others).

I'm sorry I don't have more on the Platters, but here are a couple of snippets…

http://www.youtube.com/watch?v=DVKdN4upyKs

I can't help slipping in my all-time favorite Platters classic:

http://www.youtube.com/watch?v=LbJ92ppcZZ8

See you all at the Springs Preserve tomorrow night. Bring your nostalgia, you comments and your questions…

Thanks, Lynn, and "the Springs" for organizing this evening!

Judy

Judy Dixon Gabaldon

Secretary

Friends of Classic Las Vegas