The "Family Jewels" A Romantic Vintage Clothing And Accessory Sale To Benefit The Erotic Heritage Museum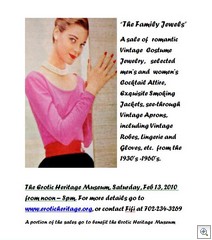 Want to top off you Valentines Day's outfit with a dash of Vintage?
Our friend LaBooshnik is holding a one day event with some of the proceeds benefiting the Erotic Heritage Museum.
Fifi is responsible for finding me almost all of my Vintage sport coats and ties. She has a permanent rack at Retro Vegas as well, but this is a ONE DAY EVENT that you won't want to miss if you're building a Vintage wardrobe.
It's a sale of Vintage Costume Jewelry, Men's and Women's Cocktail Attire, Exquisite Smoking Jackets, See-through Vintage Aprons, Robes, Lingerie and Gloves from the 30's to the 60's.
Saturday February 13, 2010 from NOON to 8PM at the
3275 Industrial Road,
An editorial note and recommendation: We at VeryVintageVegas support museums of all types, and lately we have become friends with Dr. Laura Henkel, the curator of the Erotic Heritage Museum. Don't just blow it off out of hand. It's one of the best curated Museums in Las Vegas, though I've been told that some people ares squeamish about such things. There's an excellent article about the Museum in The LA TIMES from last August, and a great website as well, if you think you have to "think about" whether you might be offended or not.
I encourage you to spend an hour or eight exploring the museum as well as picking out some fabulous items for your Vintage wardrobe.