This one's for you, Clay.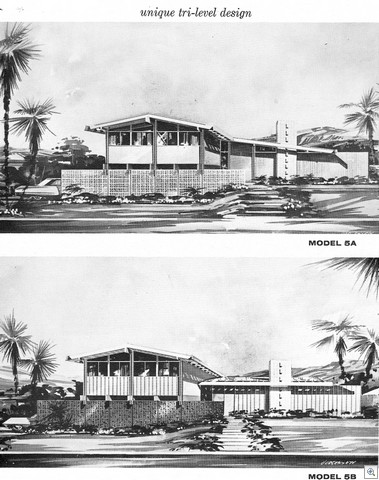 There's no mistaking the Tri-Level design. They were only built South of Desert Inn, in Paradise Palms– the first Mid Century Modern Neighborhood of Las Vegas. You can't miss them. There's about a dozen or so of them all together spread out through the neighborhood. There's still 3 or 4 of them that haven't had additions or severe modifications or haven't been stucco'd over.
Find the one on Pawnee Circle. It's the best original.
They have some of the largest of the "Stone Screen" or "Sun Screen" privacy walls made out of the decorative concrete block that I'm so fond of. (that link will take you to the entire series that we spent all of last year on)
You'll also note that they came with a zig zag of concrete panels that made up the steps from the street to the front door.
The line of shadow block in the chimney has always been inspirational.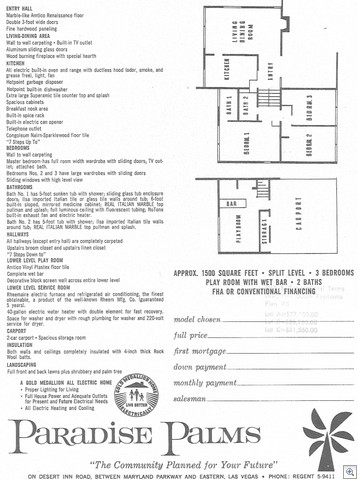 The rubber stamped pricing isn't very legible but the builder price is starting to really get up there in 1963.
Lot A = $27,950
Lot B = $25,950
Lot C = $31,550
A few (many) of you have been actually reading the amenities list. A few of them that have amused me, or caught my eye:
"ilsa imported Italian tile or glass tile walls around tub"
"Extra large Superamic tile counter top and splash"
"Wall to Wall Carpeting"  and a "Built-In TV outlet"
"full luminous ceiling with fluorescent tubing"
"6 foot built-in sloped mirrored medicine cabinet"
"Decorative block screen wall across entire lower level"