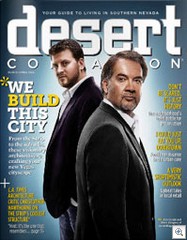 If you're not a supporter of KNPR – you ought to be. One of the benefits, besides great radio programming is their companion magazine –aptly named– "Desert Companion".
There's FOUR articles this month that I thought would be of interest to you as devoted readers of VeryVintageVegas:
Westleigh Neighborhood
The first is about the Westleigh Neighborhood, and it's disappointing (to me and many others) effort to gain "official" historic designation. I'd covered the story before, but it's a very good cautionary tale for all the other historic neighborhoods that might want to one day take the plunge into official recognition.
I use the term historic neighborhood all time. I use the term very loosely to describe ALL the neighborhoods of Vintage Vegas. But I guess I should always use it with small case letters.
The story in Desert Companion starts on page 14 – "Who's Afraid Of Big Bad History – When residents sought to secure historic status for downtown's Westleigh neighborhood, they encountered opposition from…..their own neighbors?" by Andrew Kiraly
Commercial Center:
The second story is about Commercial Center, the sprawling complex of diversity that's on Sahara Avenue, just west of Maryland Parkway. I personally love commercial center for being exactly what it is. I believe in it, and think of it as an important asset to the whole big picture of Vintage Vegas. I show it as a valuable resource to every home buyer that I work with.
Andrew Kiraly also penned the Commercial Center story that begins on page 26: "SAVING (the other) CITY CENTER – How do you restore a historic shopping plaza like Commercial Center in hard times? Clean it up – without scrubbing away its soul"
Downtown Las Vegas Restaurants
Brooke Earnest gives us a run down and the low down of great food in Downtown Las Vegas. You'll find it on page 54: "CHOW DOWN DOWNTOWN: A foodie craw of new hot spots (and old mainstays) reveals downtown never tasted so good."
The "New Modernism"
In a valley full of cookie cutter stucco and tile roofs – even in the commercial buildings there's some fabulous architecture that's happening. From Brett Wesley's new galley in the arts district, to a home in Summerlin to a motorcycle shop on Boulder Highway, there's a new breath of fresh air, with good old Mid Century Modern as it's inspiration. Desert Companion gives us a glimpse starting on page 33: "WE BUILT THIS CITY – …..here's a sampling of the hot architecture of the new Vegas cityscape…."
JUST A NOTE: The online version of the magazine opens in a flash player. It will take a few seconds to figure it out, but it's fast and very readable – especially full screen.