Last week I was in Austin Texas for a few days. It was the Keller Williams Realty "Mega-Agent" Camp. Two intense days of the newest ideas, technologies, applications, and methods to better serve our clients. Much of the techie geeky stuff was way over my head, but I did learn a lot, and am intent on implementing what I did get. No One could ever put all of it into practice, so I'm just going to do the things that make sense.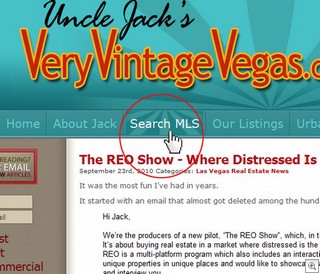 One of the things that I learned is that I could upgrade the MLS SEARCH feature that we use for our clients. I had previously picked the "IDX" from Wolfnet because you could search by subdivision name. For example in the top navigation bar you can choose "subdivision" and type in McNeil or Paradise Palms or Rancho Nevada. Those are big subdivisions with well known names. The "Downtown Area" on the other hand, is made up of dozens of smaller subdivisions and neighborhoods. Some of the custom home pockets don't have a subdivision name at all. We needed a better way, so I've upgraded the system.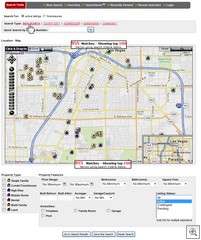 NOW, you can also do a "MAP SEARCH" to better isolate the Vintage Homes and Mid Century Modern Neighborhoods of Las Vegas. I set it up to automatically center on the middle of the Downtown Area. The maps are built using MapQuest, and function as they would if you were directly on MapQuest, in terms of panning, zooming etc.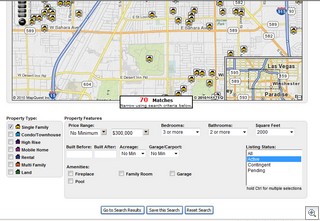 You can further refine the search under the map, just as you used to be able to.
Using the map search is a quick and easy way to find out about the house down the street that just got listed.
My experience is that most buyers spend a month or a few looking at properties online before they ever contact an agent. You can save the searches if you like, or start over each time.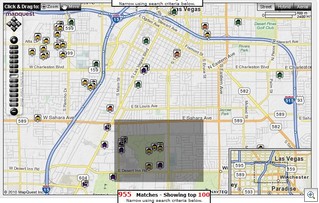 If you click and hold on the map, you can draw a box, which will automatically zoom in on the box you've drawn.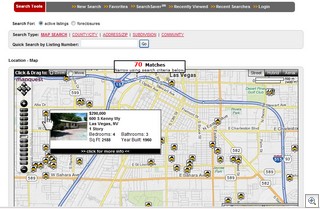 Once you have the search result properties that you want, showing on the map, you can scroll over each little property icon to see the first picture and basic information.
Clicking anywhere in the highlighted property will take you to all the pictures and the full listing.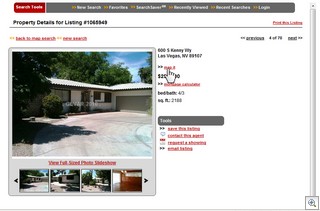 When you're looking at an individual property listing, you can click on "MAP IT".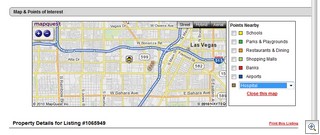 Since the maps are tied directly into MapQuest, you can then see what's going on in the surroundings, find the schools, shopping, churches, parks and whatever.
I hope you'll like this new mapping feature. Feel free to use it whenever you like, and for whatever purpose it's useful to you.
ALL THE GRAPHICS ARE CLICKABLE THUMBNAILS if you want to see them in an expanded version.
Of course, if you've found a home you're interested in, or want to talk about the property you're thinking of selling –
just give me a call at 702–378–7055 or email me at [email protected]