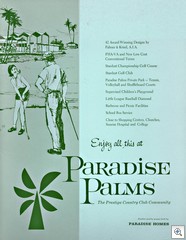 Last year, I uncovered some of the newsletters, and parts of the sales brochures from the Mid Century Modern Neighborhood of Paradise Palms.
I'm most happy to now be able to pass on the covers from the sales brochures, thanks to Clay Heximer, who does the Paradise Palms Las Vegas website and the Paradise Palms Facebook Fan Page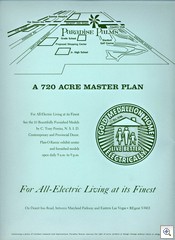 Where were they hiding all these years? At UNLV Special Collections. They had a copy, naturally. The Special Collections has a vast archive of Las Vegas history. It should always be the first place that people turn to who are researching Las Vegas History.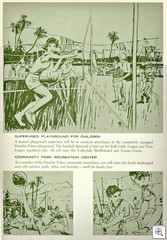 Here's one of the inside covers. I would think there would be another inside back cover as well.
The Paradise Palms Home Owners Association Is No Longer In Existance
In the early 70's, the Paradise Palms Community voted to abolish the homeowner's association. I've been told that it happened both in 73 and 74.
With the HOA defunt, the community park was closed and the land was re-developed for the last homes to be built in Paradise Palms. Those homes are distinctly different and have the feel of the 70's and 80's. You can find them on the south side of Nakona, just west of Spencer.