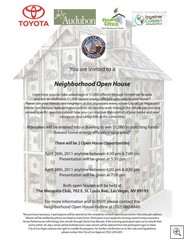 You're invited to attend either (or both) of the Energy Efficiency Open Houses sponsored by the City Of Las Vegas and the HomeFree Nevada project.
Both events will be held at the historic Mesquite Club 702 E. St. Louis Ave.
Please see the attached flyer for all the times and details. It's a clickable picture to read it full sized..
Tuesday 4/26 or Thursday 4/28
Learn how you can take advantage of $1,000.00 offer thruough HomeFree Nevada and win an additional $1000 toward energy effienct upgrades to your home.
Yes, we love our vintage homes, but probably the most important thing we can do to them is to upgrade the energy efficiency.