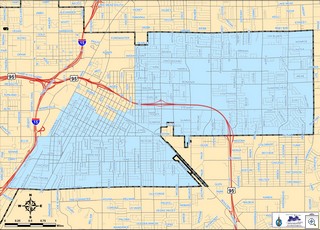 The Southridge Neighborhood Association in conjunction with the Mesquite Club will be hosting a debate between the 2 runoff candidates for the Las Vegas City Council Ward 3. Bob Coffin and Adriana Martinez will debate each other on the future of Las Vegas Ward 3.
The moderator will be Kenneth E. Fernandez, Assistant Professor, Dept. of Political Science, UNLV.
Some of you may have already received a notice but it is important to remind everybody as one of these two will be our councilman and "go-to" person for the next four years.
We are still accepting questions and it's getting down to the wire. We've estimated fifteen questions.Historic Neighborhood Designations, Code Enforcement, Commercial Encroachment, Commercial Signage, and Circle Park will certainly be hot topics among many others. If you have questions you'd like to see addressed, please email them to [email protected]
TUESDAY MAY 10th, 6 PM at the historic Mesquite Club, 702 E. St. Louis Avenue.
Note from Unclejack:
I haven't officially declared who I'm supporting yet. Tuesday night's debate will make all the difference. If you live in Ward 3, and especially if you're in John S. Park, Southridge, Beverly Green, the Marycrest areas, Huntridge, Charleston Heights, Crestwood etc, then it's very important for you to get involved.