In case you haven't had a chance to meet Chris Giunchigliani, my friends Lee and Laura, and I are hosting a meet and greet bar-b-que at their home in the Crestwood Subdivision on Wednesday, June 1, from 5:30 to 7:30 pm. This is not a fundraiser, and Lee and Laura are springing for the hot dogs and snacks.
Chris will be there simply to meet you, and to answer any questions you may have about her desire to become the Mayor of Las Vegas.
The event will be at 1941 Houston Drive at the corner of Crestwood Avenue.
Jack LeVine Endorses Chris Giunchigliani For Mayor Of Las Vegas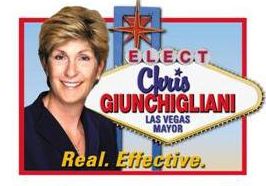 I first got to know Chris G. in 2001, when we were both appointed to the re-design steering committee for the Huntridge Circle Park. Prior to that, I only knew her as my State Assemblywoman, though I didn't pay much attention to politics then. Once I got to know her, I became deeply impressed by her passion and commitment to what ever task or cause she took on.
Chris Giunchigliani was right there with us for every battle that re-developing historic neighborhoods had to face. Chris stood with us in the fight against the Stratosphere's scorpion tail roller coaster, commercial intrusion into the neighborhoods, Circle Park, Huntridge Theater, Neighborhood Clean-up Campaigns, and she's always stood up for historic preservation causes.
Chris understands the workings of Government – at all levels. Her wealth of knowledge and experience about all levels of government can't be denied, and is desperately needed to re-invigorate Las Vegas.
I'm truly proud to call her my friend, and I'll be even prouder to have Chris G as the Mayor of Las Vegas.
Stop by on Wednesday, June 1st from 5:30 to 7:30 pm to meet her in person. No speeches, no fundraising, just a chance to talk one on one. You'll know immediately why I'm supporting Chris Giunchigliani for Mayor of Las Vegas.