I've been happily blown-away swamped for the last 3 months or so. All my listings are under contract or closed. Lot's of my buyer clients are already moved in, and lots of them are anxiously awaiting their turn. Lots of them are still in the search mode. Prices have stabilized and there's even selective price increases in some of the historic neighborhoods. Sitting down to write blog posts on a regular basis is probably the only thing I'm not happy about.
Though loathe to admit she's right….Pam at Retrorenovation helped me realize why I'm so reluctant to sit down and type. I sit and type a lot, but it's mostly email, these days. I actually miss writing for you on a daily basis, but my back is always hurting, and by the time I'm done with the daily work part of selling Vintage homes in Las Vegas, I'm usually too scrunched up and/or heat exhausted to start a new 2 or three hour typing session. But, once again, I'll tell you that … I'm going to try to do better.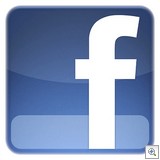 What I HAVE been doing some of, is posting and sharing and commenting on facebook. I know a lot of readers just "don't do Facebook" or have stopped. I stopped for a while when it got too confusing, but I think I've figure it out again.
I'm about to ask all my 1068 "facebook friends" to follow me on my VeryVintageVegas facebook page, which I think I've forgotten to mention.
It's the LIKE button when you get there. I'm eventually going to stop posting on my personal page.
Here's a few of the hot stories you might have missed if you weren't following me on Facebook:
FIRST FRIDAY in the Downtown Las Vegas Arts District
It's a go! Only the "official" First Friday is on Hiatus. There's been a lot of confusion, but the most recent press – RJ, SUN, VIEW, and the TV news now has it right.
Come on out anyway. All the shops and restaurants and galleries and everything else is open.

There's even a new First Friday South – car show, tents and more on 3rd Street
First Friday has actually become an all night celebration of ALL of Downtown Las Vegas. Huge crowds start out at First Friday in the Arts District and then move on to Fremont Street Experience, and Fremont East Entertainment District.
If you really need to know the background story, several of the Arts District business owners were on KNPR State of Nevada on Thursday morning to discuss it.

AND – this just in – An ART WALK EVERY FRIDAY! reported on Enculturate Las Vegas – which is where you'll find the most comprehensive coverage of the arts and culture of Las Vegas. If you are on Facebook, Brian Paco Alverez is the best source for everything. He's always posting everything that's art and culture related.
Former Mayor Oscar Goodman To Open Restaurant In The Plaza Hotel On Fremont Street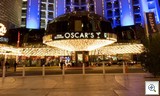 It was inevitable, of course. Former Las Vegas Mayor Oscar Goodman is opening a speak-easy, and yes it will be named after him.
The mob lawyer-turned-public servant-turned-entrepreneur is opening a steakhouse and bar this fall in the Plaza downtown, in the space previously occupied by tapas restaurant Firefly…….
A Place In Paradise – A Photographic Retrospective of Paradise Palms, The Boulevard Mall, and The Celebrities Who Lived There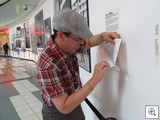 Yes, it's Brian Paco Alvarez again – wearing his day-job-hat as Curator of the Las Vegas News Bureau.
The show is in the food court of the Boulevard Mall. It's free, and open during all mall hours this month.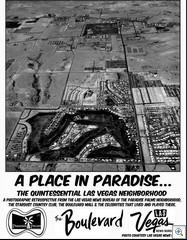 There's a special gathering and showing on Saturday – August 6th for the residents of Paradise Palms. 5 to 7 PM. It's a public place and they can't (and don't want to) keep you away. If you're curious about a VERY special neighborhood in Vintage Las Vegas, and want to meet a truly engaged and active group of neighbors, then this is a great opportunity to do so.
This link will take you to just about every post I've ever written about Paradise Palms.
If you want to see what a terrific neighborhood website looks like – check out Paradise Palms Las Vegas. It should be the template for every historic neighborhood. All it takes is someone like Clay Heximer to make it happen. If you want to see the Paradise Palms Facebook Page, just click away.
Clay Heximer and Brian Paco Alverez will be the guest on KNPR State of Nevada FRIDAY, AUGUST 5 to discuss the photo retrospective. The link will be up after the show on the KNPR website.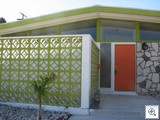 And if you want to see what all the Paradise Palms buzz is about in person, take a drive behind the Boulevard Mall. Paradise Palms is on BOTH sides of Desert Inn between Maryland Parkway and Eastern Ave.
And of course talk or email me if you're buying and selling in any of the Historic Neighborhoods of Las Vegas.
This took 3 hours, my back is killing me, and still, I'm most pleased to have typed out a real blog post again.