I've re-written this post several times. Each time it came out kind of "look how well they do things in LA– we suck".
We don't really suck. We do get homes sold – even in the toughest, worst Real Estate Market in the world. But, it's a lot easier to market it well when the home is  almost a million dollars. And in Hollywood.  And your friends are movie people. However, Eric Lavey has raised the bar on how to show off a listing. I'd be remiss to not show it to you.
The story first appeared on AOL REAL ESTATE. I picked up on it from Inman News. Within hours it showed up on several real estate industry blogs that I folow. I think it should be shared with the readers of VeryVintageVegas for a couple of reasons.
First, in contrast to what we normally see in the Las Vegas MLS –  it wasn't shot with the video camera on a cell phone.  It's not out of focus. It wasn't loaded sideways. The kitchen is clean and tidy. It's not vacant and dirty and beat up. The landscape is alive. The bed is made. There's no shopping cart on the curb in front of the home. It wasn't shot on trash day.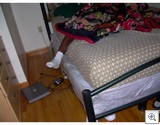 Several years ago, we did a 3 year long series on the Worst MLS PHOTOS. In contrast to the below video, here's the 2007 winner of the worst MLS photo contest. As you can see, there's been other occupants who have had staring roles in the marketing materials.
Most importantly, it's a very cool Mid Century Modern Home. Enjoy!
6816 Pacific View Drive, Hollywood Hills from Eric Lavey on Vimeo.