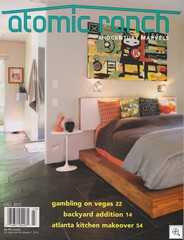 One of the most important neighborhoods in Very Vintage Vegas is Paradise Palms. I'm proud to have sold over a hundred homes in Paradise Palms over the last 22 years. Many of the most prominent and active residents are there because I introduced them to it, or because they found out about it here at VeryVintageVegas.
One of the dreams I've always had was that each of the neighborhoods get organized to promote not only the neighborhood itself, but all the various subsets of Mid Century Modern. That's happened with gusto in Paradise Palms. What was needed was a strong dedicated leader to step to the plate and make it happen.  Clay and Denise Heximer – who wrote the article and took the pictures for this article in Atomic Ranch – are the heros who picked up the ball and ran with it. There are organized clean up days, monthly get to know your neighbor cocktail parties and more happening now. And with this article, Paradise Palms is getting the kind of national attention that it deserves.
The article is in the fall edition of Atomic Ranch and is available on news stands now if you want a hard copy. If you want to see it now, the Paradise Palms website has the images available now.
Speaking of which – I have two homes for sale at the moment in Paradise Palms. 3192 Seneca Drive and 3421 Sioux Way. Both are equity sellers (not shortsale and not bank owned).
Dean Melissa just closed on a home on Caballero Drive on Friday,  and Olga and Will just closed this week on Burnham Ave. I also have several short sale listings in Paradise Palms that are working their way thru the bank approval process.
Keep your eye on Paradise Palms. If you want to take a drive, you'll find it on both sides of Desert Inn between Maryland Parkway and Eastern.