Home + History Starts This Friday!

Last Call for HHLV Advance Tickets!
Buy your tickets today!
Home + History is just one day away, and tickets are starting to sell fast. In fact, we've already had a few events SELL OUT! Make sure you reserve your spot in advance! We'll be selling tickets at the door for selected events, but we know you don't want to risk missing this first year of our Home + History weekend.
There is a lot to choose from this year: bus tours, cocktail parties, home tours, etc. And we know it's a bit overwhelming. So we thought we would help out with your last minute decisions by giving you a quick recap of everything we have going on!
Bus Tours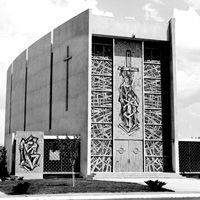 The Under the Neon bus tour has officially SOLD OUT! Get your tickets now to one of our other two bus tours instead!  On Saturday, you can catch the bus for Institutionally Modern at 9:30am AND A Tale of Two Neighborhoods at 12:00pm. Come away an expert on Vegas history and vintage Vegas neighborhoods!
Walking Tours
Our walking tours have both SOLD OUT as well. That's right folks! Don't let that happen to you on the other tours. Get your tickets now!
Cocktail Parties
No celebration of Las Vegas is complete without a cocktail party! And we have THREE! Come to our Welcome Reception on Friday night at the newly restored Historic Westside School, and see the opening of our new exhibit Timeless Classics by Jeff Green. Ticket sales proceeds go to fund the Paradise Palms' historic designation campaign. Our signature Martini Tour on Saturday night will be held at none other than the newly restored Liberace Mansion, complete with Daryl Wagner as Liberace to end the night with an entertaining bang! And join us on the tail end of Home + History for the After Party at the Golden Steer Steakhouse and Bar for some discounted drinks, apps, and an all-around good time.
Educational Events
While we say education, we definitely mean the fun kind! We have two shows that have come direct from Palms Springs to celebrate Home + History and mid-century preservation in Las Vegas. First, we will be sipping whiskey and rum in the Mob Museum and listening to mafia entanglements at Family Feud: Havana vs. Las Vegas. Second, the hilariously irreverent cocktail hour, where mid-century living will come to life at the Morelli House, brought to you by Modernism with a Twist!
We also have two free events:
Our executive director, Heidi Swank, will give a talk on NPF's very own Hugh Taylor in her pre-Home Tour talk: Hugh E. Taylor, Las Vegas' Midcentury Master.
And join Heidi again at the Historic Westside School on Saturday afternoon for a relaxing film and discussion of The Photography of Architecture. The Timeless Classics exhibit is also open Saturday from 12p – 5p, and is free as well.
Home Tours
And of course, we want to get you inside some cool mid-century homes! Home + History wouldn't be complete without the Vintage Vegas Home Tour. Wander at your own pace through ten amazing pieces of mid-century Las Vegas! And it isn't too late to Upgrade Your Ride! Tour the homes in style with a variety of fabulous options! And who wouldn't want to see a miraculous restoration of a cool mid-century house? Get your ticket for The Phoenix Home Tour and see for yourself why this home was featured in Atomic Ranch Magazine.
It's going to be a fabulous weekend!
We don't want you to miss it!
Get your tickets!
We'll see you there!