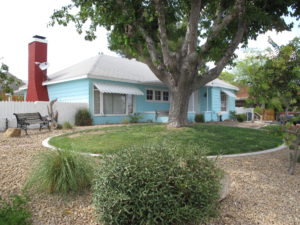 The sellers are busy prepping this adorable Huntridge home. It's beautifully landscaped, freshly painted and will be move in ready. It will hit the market Tuesday August 15th. Extra consideration will be given to an owner occupant buyer over investors.
Huntridge is one of the WWII era neighborhoods of Las Vegas that were built to house the rush of "defense workers" who moved to Las Vegas in the early 40's. They helped build the Army Air Station – now known as Nellis Air Force Base – as well as working at the Basic Magnesium plant, in what later became the City of Henderson Nevada.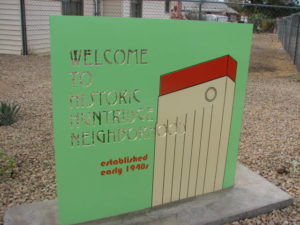 The 625 Huntridge homes were built "way out in the desert" on both sides of Maryland Parkway, just on the other side of Charleston Blvd. Huntridge Circle Park and the Huntridge Theater were among the amenities that were developed at the same time. All of the homes were built as 2 bedroom, 1 bath homes between 850 and 900 sf. The carports were under the roof of the home, and designed to be able to be converted to living space if the future owners wanted to fill them in. Most of the homes are now expanded and there are only a small handful that are the original footprint. The one we'll be telling you about on Tuesday has had the carport converted into a wood paneled den with wood burning fireplace.
Currently there are 9 homes for sale in the Huntridge Neighborhood ranging in price from $155,000 to $299,000.