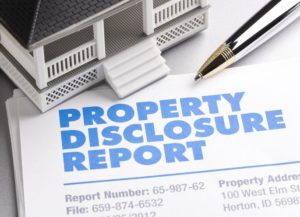 To disclose means to make information known, and a real estate disclosure statement does exactly that; it apprises potential buyers of the condition of the property. These statements are typically given once an offer has been accepted.
Disclosure statements outline issues with the property
In disclosure statements involving real property located in Nevada, sellers are required under the law to disclose known defects of which they are aware that could adversely and significantly affect an ordinary buyer's use or enjoyment of the property or any intended use of the property. A real estate agent/broker can help you as a seller prepare a legally sufficient disclosure statement or review a statement prepared by the seller in your capacity as a buyer. Although the disclosure form itself is pretty straightforward, completing/reviewing it correctly is critical because: (1) it can make or break the purchase, and; (2) it can lead to fraud litigation if the buyer maintains that information was withheld. Therefore, it is prudent to have professional guidance, especially if this is your first involvement with this important document.
Disclosure statements protect sellers
For sellers, an accurate disclosure statement will ensure a fair, informed transaction with your buyer and protect you from lawsuits. You are required to disclose all facts about the property within your personal knowledge. Know that if you complete a disclosure statement and later find out additional facts that make the first version inaccurate, you are responsible for submitting a revised version.
Remember that no property is completely perfect. Revealing your property's flaws in a fair and balanced manner will not necessarily kill the deal. The disclosure statement simply affords both parties an opportunity to enter into the deal with both eyes wide open.
Understanding disclosure statements minimizes the risk of buying a lemon property
It is imperative for buyers to read disclosure statements carefully before signing. If you know the exact condition of the real estate you're buying you will feel confident and comfortable with your purchase. Understanding your disclosure statement prevents discoveries later, like mold, insect problems, or electrical issues. Realize that if these condition issues are disclosed in the statement and you simply miss them because you brushed over them too quickly, you will have no recourse against the seller.
It's especially important when dealing with Vintage Homes and Historic Neighborhoods in Las Vegas
All the homes I sell are built before 1978 and require the Lead Base Paint Disclosure booklet be delivered to the buyer. It's the buyer's agent that does this. Lead paint is not an issue unless it's peeling and flaking. As long as it's "encapsulated" it isn't a problem. Many of the agents in Las Vegas are totally unfamiliar with Vintage Homes and don't know that this is a federal law. The Nevada Seller's Real Property Disclosure form asks if the house was built before 1978 and if yes – the federal law kicks in.
Sewer lines are another big issue in the Vintage Neighborhoods of Las Vegas. During the period that our homes were built – the sewer lines were clay or cast iron. 50 and 60 year old trees, ground settling and general old age can cause serious problems with the sewer lines. The sellers should be disclosing if the sewer lines have been cleaned repeatedly. We always recommend sewer camera inspections when doing the buyer's due diligence. I'm sorry to say that many buyers don't want to spend the extra money for sewer camera inspections.
Room additions, garage conversion, and other expansions which were not permitted aren't necessarily a problem, but the seller should be disclosing them, and the buyers should be doing a permit search just so you know that there wasn't any government supervision of the changes. There's 1000's of Vintage Homes that are no longer the original footprint. When you do your inspection – have the inspector pay special attention to the construction methods, plumbing and electricity.
Many of the homes being sold these days are "flip" properties (or were flipped a few years ago). It's very important to inspect these homes as there's no long term history for the sellers to disclose.
And regardless of what the seller discloses….do your due diligence and have the house inspected by a professional, licensed inspector.
The Department of Business and Industry Nevada Real Estate Division provides a complete Residential Disclosure Guide which describes all the various disclosures that you might encounter in buying or selling a home.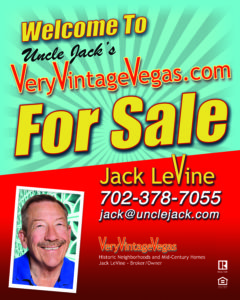 Jack LeVine has been trusted by well over a thousand clients in the last 27 years. He gets the job done – gets it done right. No other agent in Las Vegas has the depth of knowledge and experience that Jack has of the vintage neighborhoods, the mindset of buyers for 50 or 60-year-old homes, and the special things that dramatically affect the value of a vintage home.
If you want to sell (or buy) a Vintage Las Vegas era home – Call or email Jack LeVine of Very Vintage Vegas Realty – 702-378-7055 [email protected]