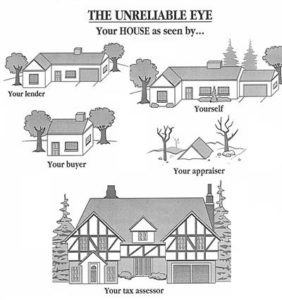 Do you plan to sell a home in 2018? If so, it's time to start thinking about your asking price. Better yet, you could work with an experienced real estate agent to determine your list price. It's one of our specialties. In this article, we'll look at the reasons why it's so important to price a home effectively, in order to get a quick sale. Pricing a home that is 50 to 60 years old is a lot trickier than the cookie cutter houses in tracts around the Las Vegas Valley.
Pricing Your Home to Sell Quickly
When selling a home, you can set the initial asking price in one of three ways. You can price it to sell quickly, eventually, or not at all. The first option is the one that appeals to most sellers, for obvious reasons.
The primary goal when selling a home is (A) to get the highest possible price, and (B) to sell within the shortest time possible. So let's talk about how you would price a home to sell it more quickly.
When selling a home, it can be helpful to change your mindset from "owner" to "seller." In reality, you're both of these things. You're the person who owns the home, and you're also the one who is selling it. But you'll want to think more like a salesperson than a homeowner, especially when it comes to pricing your home for the market.
Here's a short maxim to help you adopt a salesperson's mindset: "It's not personal. It's business." You can repeat this little mantra when determining your asking price, and when negotiating with buyers. The personal and emotional connection you have to your home does not translate into market value.
Depending on when you first purchased your home, there's a good chance it has risen in value. That's because home prices across the country have generally risen over the last few years — and they continue to do so in most cities. So you'll want to have the property evaluated by a real estate agent prior to setting your price. Your agent will review recent home sales in the area and other relevant data to figure out what your house might be worth in the current market.
The Market Determines Value
And speaking of the market that is what determines how much your home is worth. The primary market forces of supply and demand dictate how much a seller can charge for an asset (in this case, a house). So it's important to analyze the broader real estate market — and not just the house itself — when deciding on your initial asking price. This is another area where an experienced agent can guide you.
Setting the list price too high is a common mistake among sellers, particularly those who go it alone without an agent's help. We live in the Information Age. Thanks to the internet, home buyers are more price-savvy than ever before. Most buyers conduct a lot of research before entering the real estate market. So it's important that you establish a realistic asking price based on (A) recent sales activity and (B) the unique features of your home.
Pricing is one of the "Three P's" of a solid home-selling strategy. The other two P's are preparation and promotion. If you want to sell a house quickly and for top dollar, you must prepare it for the market, price it wisely, and promote it widely.
"Zestimates" and other online guides
In today's information age there are hundreds of websites you can view homes for sale and get ideas of what the value might be. The problem is they use very general numbers to guess what they believe the price of a home should be.  They have no way of knowing the condition of the home is.
Has the owner spent thousands of dollars to improve the home?  Is it run down and needs $50,000 of work to make it livable?  Right now they have a "Zestimates" on a home $30,000 less than the home sold for last month.  They are using the average for the neighborhood without knowing the condition of the home.  I've also seen them price a house $50,000 to high because the formula couldn't know that the house needed a full rebuild just to be livable.
The biggest problem with automated online valuations is that the first piece of data in their algorithm is the zip code. That works in Summerlin – but 89104, for example, averages Huntridge and John S. Park with homes at Nellis and Charleston! The reality is – there's a pricing difference even between different blocks in the same neighborhood. It takes a trained, experienced eye to know the difference.
Hiring the right agent in Vintage Vegas Neighborhoods
There is thousands of real estate agents in the Las Vegas valley that have access to the same information about every part of the valley.  Most of the agents are very good at what they do but very few have specialized in the Vintage and Historical homes because they tend to be on the lower end of the price points and there is more work to selling them than new houses.
They can list your home but most of them just use the information that is MLS and don't know why one house in the area sells for $50,000 less then another just like it down the street.  They have not spent years learning about the homes and neighborhoods in the area.  They will base their selling price on area averages without know the true value of certain homes on different streets.  Just the street your home is on in the Vintage area can make a big difference in the price.
Recently we had a client that had what could be a great house, with about $100,000 of work.  They wanted their home priced by the neighborhood average even though I advised them there was no way anyone was going to pay the price.  They needed to be about $120,000 less.  They did agree to drop their asking price but not nearly enough.  Many felt it was a good price until they viewed the home and understood the amount of money and work needed to make it a great home again.  It sat on the market until the listing expired.  I advised them I would not relist the home until their either did some work on it or made the price realistic.
This also goes the other way.  A couple of months ago an agent that did not know the area listed a home about 10% too low. I had a buyer in the wings looking for a home in that area and we swooped in and bought it.  The buyer got a deal because of an agent and seller not knowing the real value of their home.
Have questions? Please contact me if you have questions about selling your home, or if you'd like a market analysis to help determine the right price. This is one of my specialties. I can help you avoid common pitfalls and support your price with current sales data and twenty eight years of experience dealing in Vintage & Historical homes.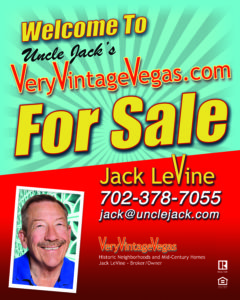 Jack LeVine has been trusted by well over a thousand clients in the last 27 years. He gets the job done – gets it done right. No other agent in Las Vegas has the depth of knowledge and experience that Jack has of the vintage neighborhoods, the mindset of buyers for 50 or 60-year-old homes, and the special things that dramatically affect the value of a vintage home.
If you want to sell (or buy) a Vintage Las Vegas era home – Call or email Jack LeVine of Very Vintage Vegas Realty – 702-378-7055 [email protected]